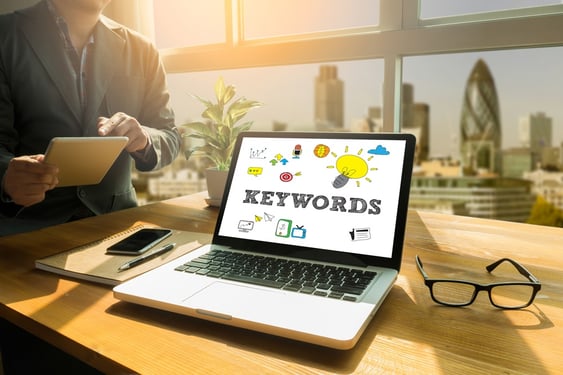 This is going to be a relatively short blog. In other words, I just want you to check this out for yourself. If you find out you have a problem, contact us immediately.
Keywords For Dentists
Prime keywords are typically one or two words or keyword phrases that indicate search potential. Lots of people will initially search based on prime keywords or keyword phrases sometimes referred to as longtail keywords. Then they refine their search based on their physical location further qualifying the search.

Check out the following list of some of the top keywords and phrases for a local dentist. Write some down, go to Google and check for yourself. For instance, you might type into Google "looking for a cosmetic dentist in mytown", then enter and see what you get. Check numerous versions and variations and write down how many times you show up on the first page.
Good Dentist
Dentist
Best Dentist
Cosmetic Dentistry
Emergency Dentist
Implants
Dental Implant costs
How much do veneers cost
Family Dentist
Gum Disease
Oral Surgery
Teeth Whitening
Dentures
Root Canal Cost
Broken Tooth
Chipped Tooth
Whitening Teeth
Invisalign
Braces
Crowns
Local Dentist
Dental Cosmetics
TMJ Syndrome
Best Dentist Near Me
Average Cost of Dental Implants
Where is a good Dentist
Cosmetic Dental Surgery
Female Dentist
Dentist in "my town"
Why do my gums bleed
I hope that you get the idea. You can use this list of words and phrases and some common sense to discover how good or not so good your SEO and online visibility is. For example, just take number 26 and add your city. I will type in "where is a good dentist in pleasanton ca", that's my town. Let's see what I get as a result.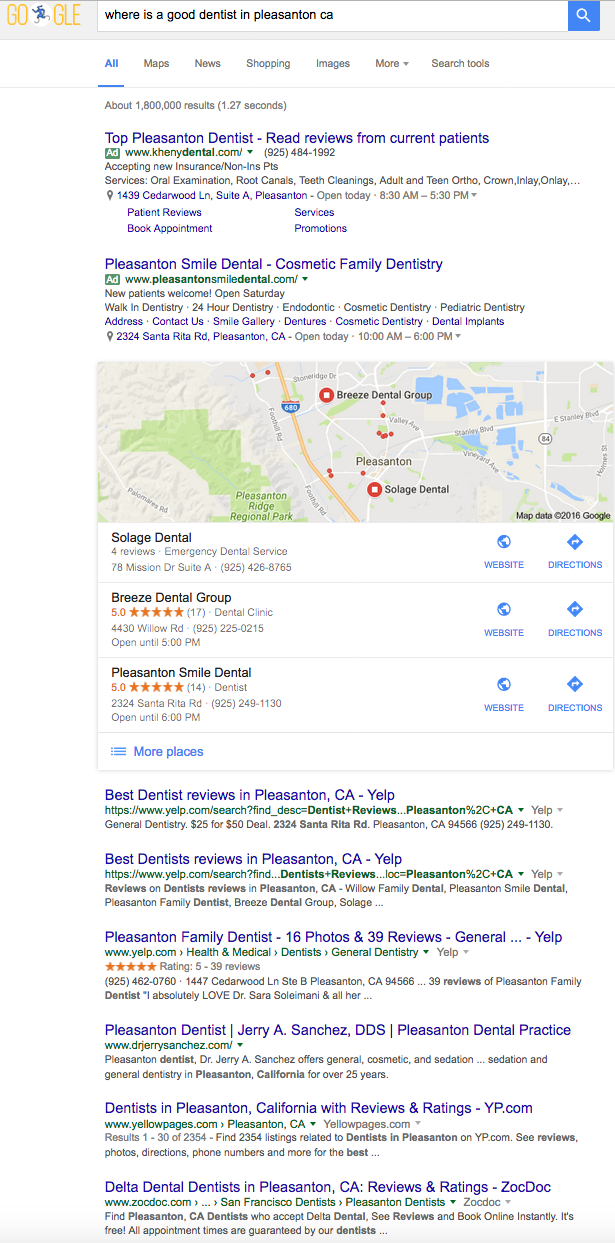 As you can see, the best spot is in the Google "3 pack", which only requires a little time and effort to get set up. The first three entries all come with a website link, directions and a great top spot placement. If you are not there in your own hometown, you need to figure out how to get there. We can help.
The others are YELP listings and the first genuine organic search result is Jerry Sanchez. He is well optimized and you can tell that by looking at his Page Title and Meta Description. If you don't know what that is or how to fix it, we can help.
Other than that, there is a YP.com listing and a zocdoc listing. So in this example there is only one single dentist that is optimized well enough to get a first page Google organic search result. That leaves lots of opportunity for other dentists in Pleasanton CA.
I said this would be a short article and so I will leave it at this. If you are a dentist or work with a dental practice, you are losing a lot of revenue month over month if you don't show up on Google search as well as other search engines, local directories and social media networks.
Contact us today if you need any help or download our FREE EBook below...