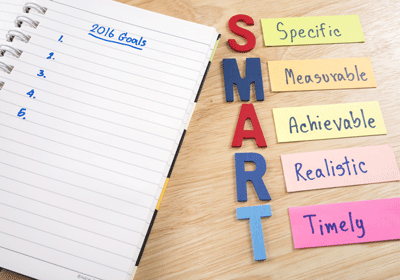 January is already coming to an end. Hopefully, you already have your company's goals set up for 2016 and know what you are working towards. Sometimes things get in the way, and time gets away from you. It happens, but if you hope to achieve success this year, you need to set goals. However, not all goals are created equal. Maybe when you were a kid, you set a goal to become an astronaut. How did that work out? Probably not too well.
SMART goals are different because they help you achieve results. SMART is an acronym for specific, measurable, attainable, realistic, and time-bound. This is perfect for marketing because it prevents you from vague, impractical objectives which wastes your time and money. One of the great things about HubSpot marketing software is that you can set SMART goals in the program and track them. Here is a breakdown of how a SMART goal will help guide your marketing efforts.
Specific
We will create an example, let's say your company wants to increase your social media following. This is a great idea because of how impactful social media can be to your marketing strategy. Now that you have this broad idea of what you want to accomplish, hone in and make it specific. The broader the goal, the harder it is to tell if you make any progress. One idea for our example is to go through each of your social media platforms and specify how much you want to grow on each one.
Example: Increase our Twitter following to 20,000 and raise our Facebook likes to 5,000.
Measurable
If you can't measure your growth, there is no way to know whether you succeeded or not. You need to be able to tell how you are progressing towards your goal to see what needs to be adjusted or changed. Make sure your goal can be measured in some way! Luckily, with social media it is very easy track your follower number or like number because they are available for all to see. With analytics software, you can have greater control to see how well certain posts are performing and how it's affecting your business.
Example: Monitor social media analytics to observe increases and decreases with follower count and amount of likes.
Attainable
It is important to know that your goal can be achieved. If it is too far out there, you will likely end up disappointed and frustrated. You probably want way more than just 20,000 followers, but with 5,000 followers already, you thought it was a good goal to try to reach for. For the new year, you are going to increase the attention on social media, but you can't expect a massive increase from that alone. Your goal needs to be attainable based on your skill level and time frame. Go through your past data about your goal and see how well you have performed in the past. In this example, you learn that your social media following on Twitter only increases by about 600 followers each month and your Facebook likes only increase by 150 each month. Therefore, you decide to change your goal to a more attainable one.
Example: Increase our Twitter following to 17,000 and raise our Facebook likes to 2,500.
Realistic
Similar to attainable, your goal must be realistic. Based on all your resources and time, you need to have a reasonable expectation for what can be achieved. In this example, say you only have one employee, who occasionally works on your social media strategy whenever they have time. You plan to increase the level of involvement and create a more comprehensive strategy along with utilizing social media scheduling and monitoring tools. Even so, you only have one person doing all this work. There might be times this employee has other priorities and can't focus. Alter your goal so it is realistic and reflects what can be done
Example: Increase our Twitter following to 15,000 and raise our Facebook likes to 2,000 by dedicating more time to social media strategy and audience engagement.
Time-Bound
Your time frame should be very specific with a set start and end date. It is important so you can figure out a schedule for how quickly tasks need to be achieved. If you aren't time-bound, it is easy to be lazy about things and just say, "Oh, we'll get to it next quarter or next year." When you know how long you have, you are driven to work harder. For this example, you know how many followers and likes you get each month on average, so to reach your goal you decide work for about one year to achieve your goal.
Example: Starting January 30, 2016 and ending January 1, 2017.
Putting it all together, we have a SMART goal that hits all the points:
By the beginning of 2017, see an increase in our Twitter following to 15,000 and Facebook likes to 2,000 by dedicating more time to social media strategy, audience engagement, and analytics.