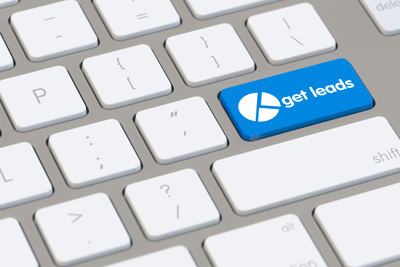 Owning your own business can often feel like a very thankless and difficult position. For starters, the entire success or failure of your company is sitting squarely on your own shoulders. If your business isn't making money, the first person who gets the blame is you – after all, who runs this joint?
But we understand there are a ton of different responsibilities you have to keep straight just to keep your business afloat.
You can eliminate a lot of these concerns by hiring more employees and learning to delegate effectively. But hiring employees also costs money (funny how everything seems to cost money when you own a business), and delegation is easiest when you have solid employees underneath you.
Another way to make your life easier? Embrace online lead generation. Not only is it incredibly effective, it's also a great way to do more with less.
Online lead generation isn't just for big corporations anymore
In the past, it seemed like only large corporations had the capital and technical knowhow to pull off large scale online campaigns. However, in today's world, almost any business can use online lead generation effectively.
Online domain hosting has become very inexpensive, and if you use marketing automation software (like HubSpot), then you can easily build your own website from scratch. I'm not necessarily advocating that you get so involved, but I want you to understand how easy it is to start marketing online.
Consumers are increasingly consulting the internet first before making purchases
Another big change for modern consumers is their willingness to consult the internet for purchasing choices. Not only do today's customers do their research, they also make a ton of purchases online as well.
Today's consumer wants to be informed, and they're acutely aware of scams and false promises. Therefore, when searching for a solution to their problems or when looking for a specific type of product, consumers will spend ample time on the internet. This is where you can insert yourself into the conversation.
Inbound marketing is the strategy that adds value for your visitors
In order to catch the attention of potential leads, you want to find ways to bring them to your website. For our money, the best way to accomplish that is through inbound marketing.
Inbound focuses on trying to bring potential customers to your site through the use of targeted content. You decide who your 2-3 ideal customers are and use them to establish buyer personas. These buyer personas will dictate your content choices, as you will try to cater your content (mostly blog articles) specifically to these audiences.
And it's important your content be very light on self-promotion and sales. The goal of these blogs isn't to convince your visitor to become a customer; you simply want to provide value and educate the visitor. Once we've established our worth and credibility in their eyes, then we begin trying to turn them into customers.
Just the tip of the iceberg
Of course, inbound marketing is much more complicated than what we've described here. But you get the gist of it. This is a strategy we truly believe in here at Rhino, and we think it can definitely work for you. And if you're interested, we'd be happy to provide a more thorough analysis of your company's current marketing and our ideas on how to take it to the next level.