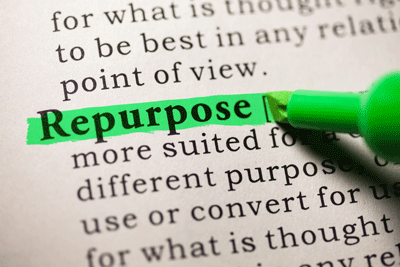 In the simplest terms, repurposing your content means you take the same information and present it in different ways. You might wonder why a company would do such a thing – don't people want new information instead of old information? But repurposing content isn't about presenting the same information to the exact same people; it's about bringing information to new audiences.
As a business, you have two things that you should be able to offer: products/services and expertise. Considering these are your two basic offerings, you need to maximize their value. With a product/service, that means providing the best quality to your customers to ensure satisfaction. But what about expertise?
This is where repurposing content comes into play. The original purpose of your content isn't to entertain your readers or win writing awards (although if you can manage to do both of those things, that's great); it's to highlight your expertise in your field and provide information of value to your website visitors. Because after all, what is the end goal of providing content such as blogs, eBooks and white papers? To help your company make a sale. And when you highlight your expertise and provide value, you're showing the customer that a) you know your stuff and b) you're worthy of their time and business.
You need as many chances as possible to showcase that expertise to your audience, to maximize its value: which is why you repurpose content. When you present the content in a new way, you have a chance of reaching someone who hasn't seen it before. Everyone is different, and not every potential client is interested in the same thing.
And even though you may have written about the same topic 100 times, that's because your business is your livelihood: for someone else, who has a family, and a life, and their own business, they don't have the time to read everything you've ever written. The next time you present your content may be the only time they actually see it.
Here's an example of how you can repurpose content: let's say you work in office furniture sales. You write a blog about the latest developments in office chairs. Then, you take that information and repurpose it into an eBook called "5 Best Qualities in New Office Chairs." You now have two content offerings that you can market, each of which could appeal to a different audience.
No matter what field you're in, there's only so much you can write. That's why the key isn't to always write content with new information; it's to write content that is always informative and valuable.
To read more, download our free eBook: