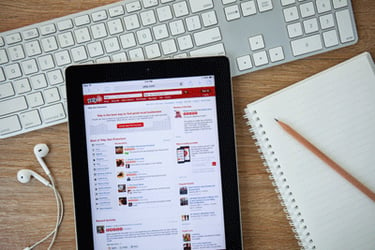 I'm sure that as a business owner, you've already invested a ton of time, effort, and expense towards making sure that you're putting out the best product (or service) that you can, and at the right price. But let's be honest. In today's world, it's not always enough to do a great job, even if you're the best at what you do, if no one knows about it. That's why you need to do marketing, and part of a well-planned marketing program has to include some degree of reputation management.
We're living in an era of hyper-connectivity, and people are spending more of their time online, either at their computers, or on mobile devices, and we're seeing an unprecedented level of online communications of all sorts. Not only is electronic communication via email and text messaging becoming the primary means of staying in touch with contacts, but people are increasingly involved in online communities like social networks. As of January 2015, approximately 29% of the global population, over 2 billion people have active social media accounts. That certainly constitutes a force to be reckoned with.
While there are scores of uses for social networks ranging from sharing family photos to keeping up on celebrity gossip, they have also become a forum for sharing of information and getting information on businesses. In particular, Millennials, who have already become the generation with the greatest population, are characterized, among other things, by their sharing of information online, and turning to online reviews before making a purchase. And while I'm sure you're going to get predominantly positive reviews, it would be almost impossible to avoid getting at least some reviews which could tarnish your public image. And this is where reputation management comes in.
The main point to keep in mind here is not to hide from negative reviews. They're inevitable, and how you respond will make a big difference in how your company is perceived in the online world. Whether you got a negative review on an online review site, or someone posted negative comments on your Facebook page, your best course of action is to be proactive and address the issues raised. If nothing else, this shows the online community that you care about unhappy customers. And if they've raised a valid point, that's certainly something you should be eager to address.
And while we're on the topic of being proactive in reputation management, make sure that you're using the social networks to your advantage. As we've already pointed out, a social media presence for your business is essential, in part, because it puts a face on your company that customers can see and relate to. Make sure it's the face you want them to see. Keep your pages on the socials current and professional-looking, and keep providing interesting and meaningful content, establishing yourself as an authority in your field.
In today's digital world, managing your online presence is more important than ever. There's even an emerging industry of reputation management services. But if you maintain the right online presence, stay on top of your reviews and respond intelligently and positively to critics, we think you overcome a few bad reviews, and keep your reputation untainted.