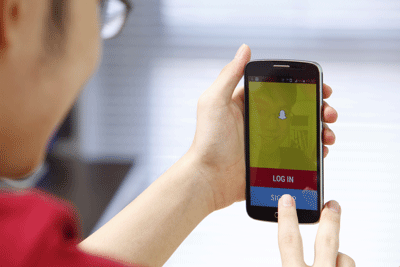 Your humble author turned 30 this year, which probably sounds pretty darn young to some out there. But to be quite honest, I feel more and more like an old man with every passing day. I think I might have lost all patience for teenagers, I'm tired more often than I used to be, and my idea of a great Friday night is take-out dinner followed by Netflix. For me, 30 is the new 40, apparently.
Another thing I've always felt too old for: Snapchat. It has all of the complexity of a picture text message, except we add an expiration date to it. So Snapchat makes pictures and videos better by making sure they're finite? Oh, well, except for the fact that Snapchat photos can still be found after their supposed "expiration." Remind me why we're using this thing again?
But regardless of Snapchat's utility as a social media tool, we can still try to use it as a marketing tool. The only bad marketing tool or strategy is the one that doesn't work. So that begs the question: should businesses be embracing Snapchat?
If you want to reach youngsters – absolutely
Social media has been around long enough that we're starting to notice trends. For instance, each new social media site has a similar cycle. It will become popular among youngsters first, then slowly rise in popularity until it becomes mainstream enough for the general public to embrace. Then, once parents or other older folks start to get involved, the youngsters flee to the next social media app.
Currently, Snapchat is at the phase where it's still the domain of youngsters. According to research conducted by Business Insider late last year, a whopping 45 percent of its users are 18-24 years old (for the sake of comparison, Vine is the second-most popular young person app, and its youngster crowd accounts for only 28 percent of users). And when you expand the Snapchat users to include 18-34-year-olds, they make up 71 percent of Snapchat's user base. It's where the young people are at home… for now.
So how can I use Snapchat for my business?
Snapchat is an app that's about showcasing yourself and your life; after all, its default picture mode is the selfie-cam. Therefore, we encourage you to give your employees access to the company Snapchat account and let them have some fun.
Folks who are popular on Snapchat give followers a glimpse into their lives, so you should do the same for your business followers. Give them glimpses into the inner workings of the business by letting employees add snippets of client meetings to the Snapchat "Story" or simply allow them to post short videos and photos they take in the workplace.
You can also use Snapchat for special promotions or announcements. For instance, offer a special sale price to your Snapchat followers, and only announce the deal via Snapchat. This way, you reward Snapchat followers and also drum up interest in this account.