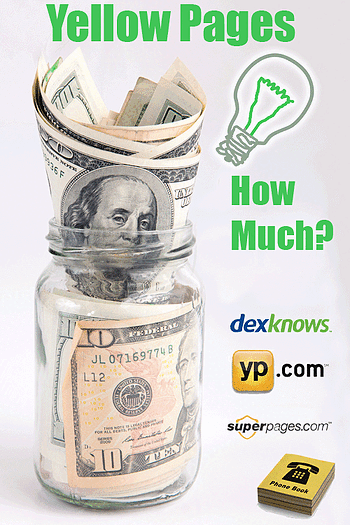 That's a question asked by many business owners today. Those business owners generally come in two categories, the business owner who already spends money in the Yellow Pages and the business owner who is contemplating spending money in the Yellow Pages.
Let's define what advertising in the Yellow Pages means today. Yellow Pages used to mean the phone book. The book that was delivered to your door with Yellow Pages and local businesses advertising on those yellow colored pages.
Today it can mean the printed phone book or the online version created by the old yellow page publishing companies. The online versions are referred to as IYP or Internet Yellow Pages.
In addition to their print Yellow Page directory and their Internet Yellow Pages (IYP) the Yellow Page companies are likely to offer a plethora of other online related products or services. Things like pay per click, pay per call, direct mail, online banner ads, multiple online directory listings, etc. Generally, the yellow page company as a reseller offers these products with an extra charge attached.
Yellow Page Print:
Spending money on the print product is a decision that should be made like any other advertising or marketing decision. Does the purchase provide a reasonable ROI? What is the cost and what is the risk? The down side to print advertising is that you are tied to a 12-month contract and once the ad is published you are not able to make any changes for a year. Certain headings in the yellow pages still seem to provide a return. Those headings are the more traditional urgent service types of businesses. In his blog article titled "Should Small Business Still Book Yellow Page Ads?" Kern Lewis put it this way:
"The Bottom Line
People (especially older demographics) do still reach for the printed Yellow Pages when they need a local business in a hurry. For instance, plumbers should think hard before they ditch their local phone books. Personal injury lawyers should also track their incoming leads closely before deciding to stop their ads. There are lots of examples of businesses that service folks with urgent needs who may benefit from staying in the books. But, if your phone isn't ringing or your dedicated landing page is not seeing traffic from your Yellow Page placements, stop investing in it, even if the YP rep is a close personal friend and a pillar down at the Chamber of Commerce. You don't run a charity, and your business needs come first!"
IYP (Internet Yellow Pages):
The big 3 publishers left are YP, Dex Media and SuperMedia. Dex and SuperMedia just merged and went bankrupt again so I guess you could say that there are now the big 2 left. Dex Media and YP. Yellow Book is also a national player but not to the degree of the major 2. The online directories that are available for advertisers to purchase items in are:
In deciding on online yellow pages there is the basic ROI questions to answer but a larger and more fundamental question for a business owner to ask themselves. Think of it like this, do you want to rent your online presence or do you want to own it? The yellow page companies want to drive traffic to their websites and not yours. They want to do this so that they can rent you space on their website (along with all of your competitors) and then see if the consumers will pick you out of the bunch. Its just like the name implies "online yellow pages." They want the consumer to find choices of businesses in a particular category. And those businesses can be whoever purchased a spot. Local, national, foreign it really doesn't matter to the online directory company.
So you must ask yourself if you want to encourage traffic to the directory site or to your website. Organic traffic to your own website is long lasting and preferable to being found with a secondary search on an online directory.
Take a look at this Google search. This is for a chiropractor in the Tri-Valley area.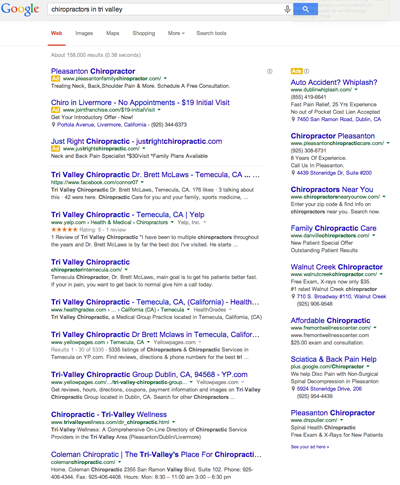 What you can see is the paid ads, the organic ads and the YP and Yelp listings. Just for fun, lets see what the consumer sees with a click.
First a regular organic listing, Tri Valley Chiropractic (yes we see that the website is not done)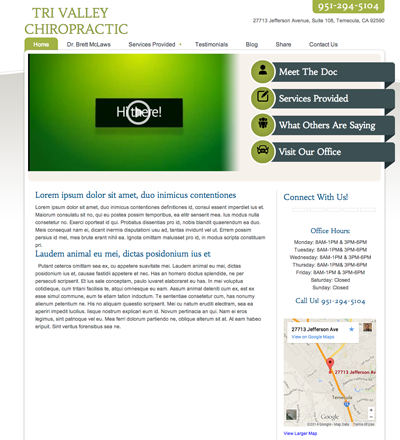 Now lets look at a YP click for the same Chiropractor: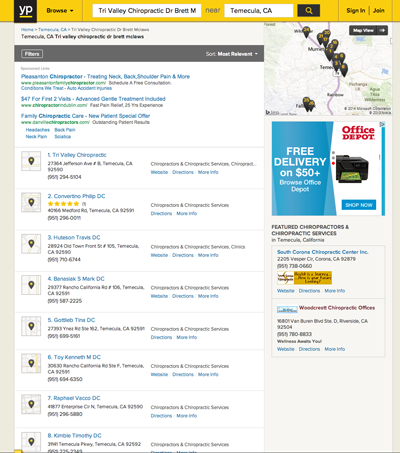 Last but not least let's see what the consumer sees when they click on a Yelp review: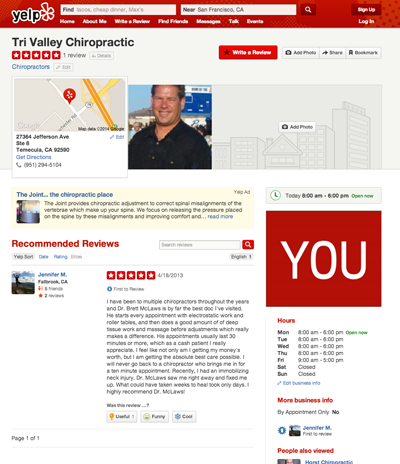 At first thought you may be tempted to think that Tri Valley Chiropractic is just great to get a click on all three. But step back and think about it in different terms. As the Yellow Page print book evolved over the years, one of the most annoying things about it was when other publishers got involved and started to deliver additional directories. There was a time in Orange County, CA when a resident might receive upwards of 8 different telephone directories. Sorry but that's just information overload. The same thing has been happening on the Google search results page (SERP). More and more organizations are vying for the almighty click. And as a business owner you are stuck trying to figure out how to get that click before anyone else. As a basic suggestion, don't buy it from someone else get it yourself. A basic listing in the online yellow pages is a good idea. Just like its good to be listed on a number of different directories like Manta, Foursquare, BBB, Angie's List just to name a few. But to advertise on everything trying to draw business from them is too much. Create your own real estate on the Internet with a well thought out website that attracts visitors and then converts them into leads. Use content marketing and Inbound Marketing best practices to come up as an organic search result when people are searching for your services, products or you.
Third Party Products:
This one is very simple. Why would you pay a premium to buy a service that is readily available? Google AdWords, retargeting programs, direct mail, text messaging services, and social media management are all things that can be purchased from many, many sources. If you find yourself caught in the snare that makes you think that you have been spending the money anyway so what's the difference. Stop and think about it again.
Your advertising/marketing dollars are valuable and just because you may have spent money in the past with the yellow page company doesn't mean you have to spend it again. They must be able to deliver a return and if they can't they must be discarded and replaced with products and services that can. When looking at a company that provides services by vendors, it really prompts the question, why not go to the source? Its easy to set up a local Google Adwords campaign and to select your own keywords and turn it on or off by the day. Signing up for lengthy and expensive contracts is an old antiquated business model. Today you can make fast decisions that don't lock you up for long periods of time. Think very hard on who is providing what you are paying for and how much it is being marked up.
For some more thoughts and ideas about Yellow Page advertising and options read our whitepaper on the 5 reasons to stop advertising in the yellow pages: