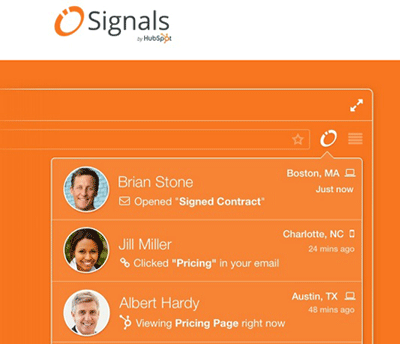 When it comes to email marketing for your business, a lot of your effort and observation boils down to guesswork. Of course by closely monitoring analytics such as open rate, unsubscribe rate, and click through rate you can make assumptions as to what works and what doesn't, but nothing is 100%. HubSpot released their Signals app one year ago, which has allowed companies to take a bit of the guesswork out of their email marketing equation. But is the app a valuable tool, or a creepy invasion of privacy?
Basically, the Signals app allows you to see who opens your emails. You will know exactly when your email was opened, and how many times the same viewer revisits the email. You can even see where someone is when they open the email, as well as track if and when they click on the links within the email. Obviously this could be incredibly valuable when it comes to your companies email marketing efforts.
The information you can glean from this app could go a long way to improve your email marketing tactics. If a viewer repeatedly opens an email, you can assume that they have a strong interest in the content within the email. If you have one particular email that is revisited over and over again, your marketing team can gather that this type of message is a safe bet in the future.
Your sales team can also use this app to their advantage. If a salesperson sees that a lead they have emailed has opened and reopened an email five times before they are set to chat, he can determine that the prospective consumer has a high interest. This can shape the way he goes about his sales pitch and may make it easier to close the deal.
The app can also inform your salespeople of the best time to reach out to a lead. If they see someone has just reopened an email for the third time, that might be the perfect moment to give them a call and follow up.
The app can be integrated with the HubSpot platform as well. You have the ability to see when important contacts are on your website, and the exact page a viewer is on. You can even receive notification when someone from a Fortune 1000 company is on your website.
No one will know that you are using this app to track your emails and contacts, so it allows for plenty of privacy. While that may feel a bit intrusive, the information is kept safe, never being accessed by anyone other than you. While some may feel this is a bit on the creepy side, the benefits that it allows your company to have are invaluable.
If your email marketing efforts could use a boost, the Signals app might be a great option for your business. The information you can gather through the app can take a lot of the mystery out of what works and what doesn't. To read more on inbound marketing and how to develop a new sales strategy, download our free eBook "Modernize Your Sales Process".