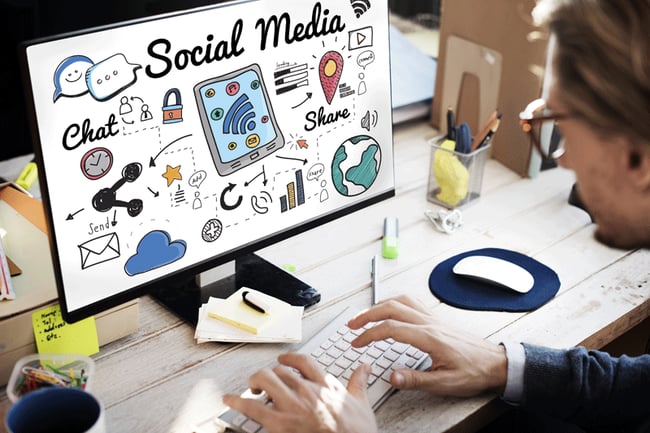 As a business owner, social media marketing should be an essential element of your overall marketing plan. According to Statista, 78 percent of the United States population has some type of social media profile. If you are wondering if people in your target audience use social media, the answer is yes. As you get started with social media marketing, there are a few do's and don'ts you need to keep in mind.
Don't ignore the various social media platforms that your clients are using.
Most people in the U.S. have heard of Facebook-even those who do not use social media. It is the platform with the most users worldwide, so you should definitely put some of your marketing efforts into Facebook. But, do not focus on Facebook to the exclusion of other social media platforms.
When you research your target audience you may find that they also use another platform at a high level. For example, 53 percent of people age 18-29 use the social media platform Instagram. If your target audience includes 18-29 year olds, then Instagram is an important platform to use for your company's social media marketing.
There is demographic information available online for all of the major social media networks. Take some time to research the networks your target audience uses so you can include them in your marketing efforts.
Do automate responses and schedule out your posts.
Creating a presence across several social media platforms may seem overwhelming if you are not familiar with the process. Thankfully, there are ways to streamline the process so you do not have to spend all of your time on social media.
For example, you can create an automatic response to direct messages you receive online. The response can direct followers to your website where they can find more information or simply let them know that you will respond at a later time. This keeps you from feeling like you need to constantly check for messages, which can be a distraction and a drain on your time.
The various platforms have their own tools to help business owners create and maintain profiles on their sites. In addition, there are software programs and apps that allow you to control all of your social media profiles from one location. You can write a post or upload a picture and then have it go out on all of your social media profiles from a central location. In addition, you can write posts and schedule them to be published on your profiles at a later time. So, even when you are busy with other duties related to your business, you can maintain your online presence with scheduled posts.
Do pay attention to what your followers want to see.
One of the quickest ways to run off social media followers is to fill their feeds with information that does not interest them. Always aim to provide quality content and do not post simply for the sake of posting.
It is ok, and even advantageous, to post on a variety of topics. But, take the time to learn what your audience is interested in and make sure to tailor your posts to their interests. As you put information out on social media, look at your analytics and make note of what types of posts do the best. If a post on a certain topic gets shared and retweeted at a higher level than others, it may be an indication that your audience is interested in that topic.
Social media marketing is important for your business because you have the potential to reach such a large audience. Online marketing is always changing so do not expect to become an expert immediately. Get started by learning about your audience, becoming comfortable with the process of posting for your business, and providing your followers with the type of posts they want to see.