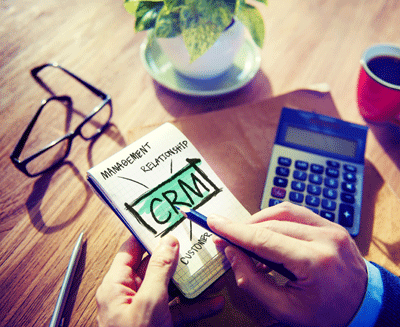 In my earliest days as a salesperson, I tracked my leads with index cards, on which I kept notes on the account, the main point of contact, and my contact with that individual. I had multiple card file boxes in which I would keep the cards, sorted by how hot of a lead it was, and cards were moved from one file to another as their status changed. I know I'm dating myself a bit with this anecdote, but it was a good system for the analog days of marketing.
Nowadays, of course, everything has been digitized, and my card files have been pretty much universally replaced with CRM (Customer Relationship Management) systems. There are plenty of them available at this point in time, including some that will run on your own computer (or mobile device), some that will run an a company's network, and some that operate in the cloud. Here at Rhino, we're fans of HubSpot (and partners with them), and our preference is for their system. Let's look at some of the benefits of HubSpot CRM.
Integration With Hubspot's Marketing System
We've been singing the praises of HubSpot for quite some time. For starters, they basically invented inbound marketing, which we've found to be the best methodology for these days. HubSpot didn't always have its own CRM system, and originally had to integrate with other vendors' CRM tools. But now that they have their own CRM tool, it integrates beautifully and effortlessly with their superb marketing system. With virtually no effort, every member of your team can record every interaction with a contact, and leave any other pertinent notes. This is valuable because you don't want to lose track of any information on the precious leads that you're working so hard to nurture. It also leaves an excellent record in the form of a timeline that any team member can pick up on.
Simplified Communication
Whether you're communicating with your contacts by email or phone, it's effortless with the HubSpot CRM. When you're on a contact page in the CRM, you're only a click away from sending an email to that contact. If you'd like, these emails can be trackable so that you'll find out whether your contact has received and opened the message. You can also set up phone integration, making calls from the contact page as well. Of course you can enter notes about the call while you're there, and, as an option, there is even functionality available to record the calls.
Website Integration
This is a premium feature, but is one of the cooler benefits of the HubSpot CRM system. Because it's connected to your HubSpot-based website, it knows when your leads are looking at your site. This enables you to get notifications when an old leads "wake up" and find their way back to your site, so you can spring into action when they're ripe for a follow up call.
Social Media Integration
We can't stress enough the importance of having a social media presence for marketing in today's digital world. HubSpot knows this as well, and its CRM platform connects to the social networks, pulling in useful details from your contacts' profiles. This in turn integrates nicely with their Sidekick Chrome extension, which makes all that information accessible right in your inbox when you start to write an email to a contact.
It's Free
Unlike a lot of other CRM systems, another benefit of the HubSpot CRM is that it's free. It eliminates the needs for clumsy outdated systems (like my index card files), and will streamline your sales and lead nurturing processes.