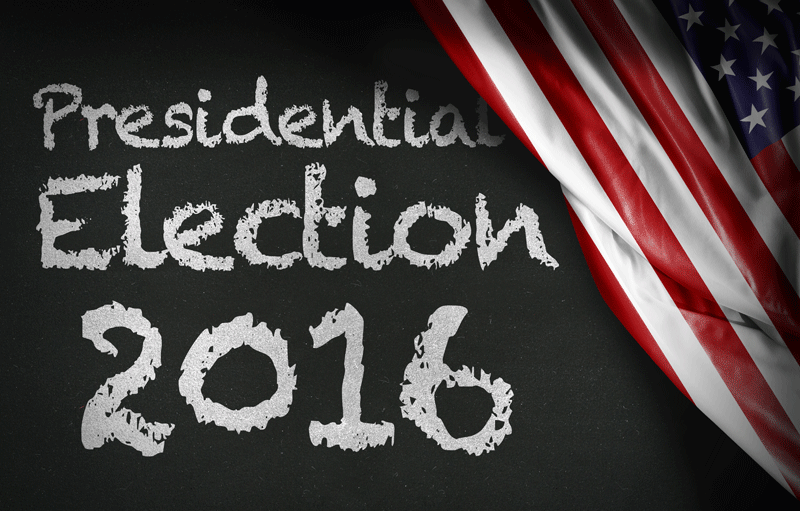 This presidential election has been a wild ride, and we are still in primary season! Nobody could have predicted the campaigns we have seen so far with the rise of Trump, a seemingly unknown Vermont senator challenging Secretary Clinton, and the massive mudslinging on the Republican debate stage. Another big player in this election has been social media, specifically Twitter.
Each candidate uses social media to grow support and try to sell themselves to voters, which is not completely different to how businesses use social media to build their brand and capture leads. All of these politicians are (or were) trying to win, so they are great case studies in promotion and social media marketing. Here are some interesting lessons from some of the current and past candidates that companies can take away.
Jeb Bush: Engagement is essential
Jeb's Twitter page is a great example of high engagement with followers. It is the opposite of the "low energy" label that stuck to his campaign. He retweets supporters and adds a personal message directly to the person. There are many examples of this on his page where even small mentions get nice responses from the governor (or the staff running the account).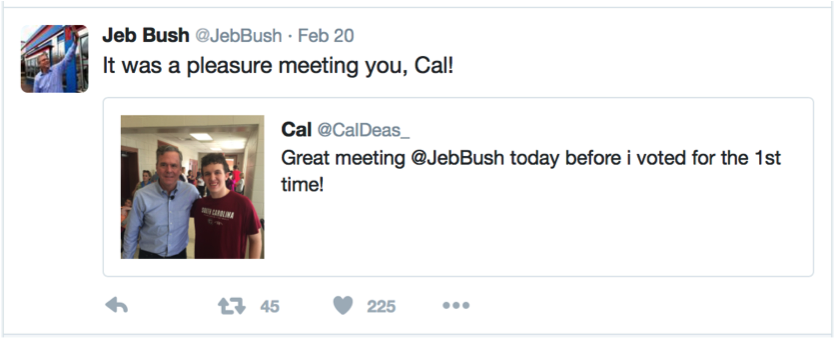 Engagement is something important all businesses on Twitter should remember. Sure, you can post updates daily, but if you aren't engaging with your followers or with the community, you will likely only get so far. Hootsuite found that once they started focusing on increasing Twitter engagement, their web traffic increased as well as their lead generation! Engagement, such as likes, retweets, and link clicks, show that your audience is actively interested in what you have to offer. If you engage with them, it is more likely that they will engage with you!
Carly Fiorina: Videos are a great way to get your message out
Carly Fiornia makes excellent use of videos on her Twitter page. Videos are great because they allow you to get around Twitter's limited 140 character limit. Her page has many short, 30 second videos showing clips of her interviews or campaigns ads. She also includes some longer videos at times to highlight important issues to her.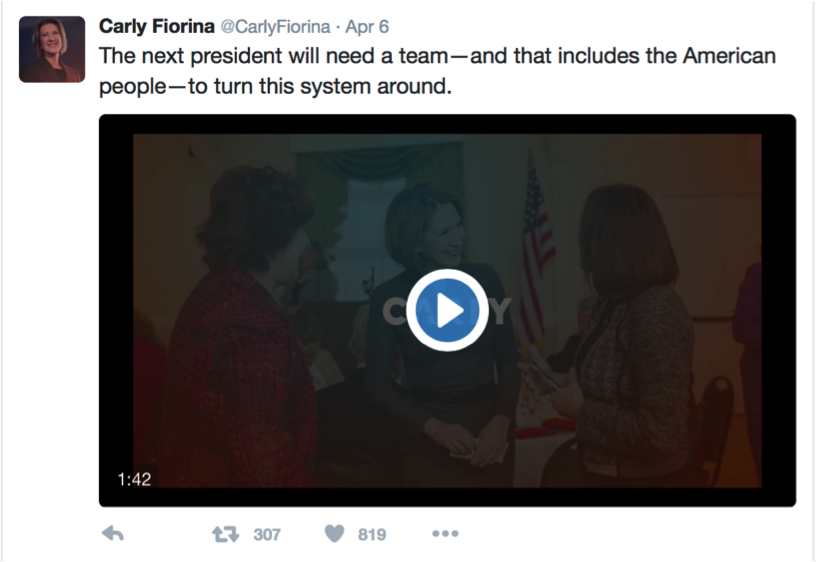 If you are looking for creative ways to reach more fans, consider adding videos to your Twitter marketing strategy. You can showcase your product or your service, and as Fiornia demonstrates, these don't need to be extremely long. You can use videos to show behind the scenes footage of your company, to promote new products, to introduce your staff, or to highlight new features or services you provide. There are so many options, and your followers will appreciate your hard work and being able to visualize what you are trying to say.
Bernie Sanders: Sometimes words are enough
In contrast to Fiorina, the Sanders campaign Twitter page is generally devoid of flashy videos and photo after photo. Most of his tweets are statements without any links, graphics, gifs, or hashtags. He relies on the power of his words, and it works. It shows that sometimes you don't need all the extras, the bare minimum can be just as effective. He gets massive amounts of engagement on his posts.

Business owners often don't have the same clout as national politicians and might think that nobody will listen to them. Sanders has the advantage of 1.9 million followers, but every company will have its own followers to appeal to. Maybe you won't have over 8,000 likes per post, but it is all about appealing to your specific audience. Sanders is speaking directly to his supporters with each of his posts and telling them things they want to hear. What do your customers want to hear?
Donald Trump: There is power in hashtags and photos
Trump has the largest Twitter following of any of the candidates (7.51 million) and is very active on social media. His tweets often garner a lot of attention both good and bad, and recently he was involved in news controversy after tweeting a meme comparing Ted Cruz's wife with his own. He has definitely capitalized on the power of images to tell stories along with the power of hashtags to stir up conversation and attention. He is known for the slogan turned hashtag #MakeAmericaGreatAgain.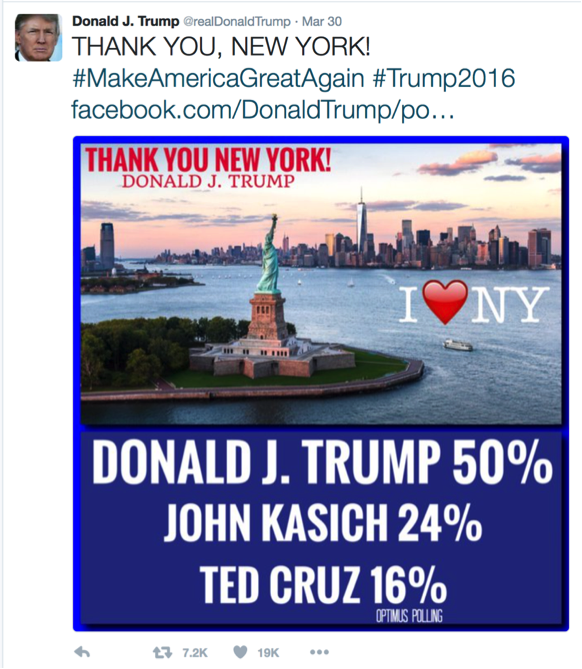 Hashtags are a huge part of Twitter and help your posts get discovered. If a hashtag starts trending, it could get massive attention. Many businesses create their own hashtags, such as Nike which repurposed its famous tagline into #justdoit or other brands that simply use their name as a hashtag. In addition, pictures help followers visualize your message and photos tend to be more shareable. Twitter found that "tweets with photos get 313% more engagement!"
Hillary Clinton: Personalized graphics make a difference
Secretary Clinton's Twitter page uses many great, simple graphics to emphasize their posts. Many times, it is simply text on a plain background, but these graphics get some of the highest rates of engagement for her. They are easy to read, easy to understand, and nice to look at, which is the perfect trifecta for social media.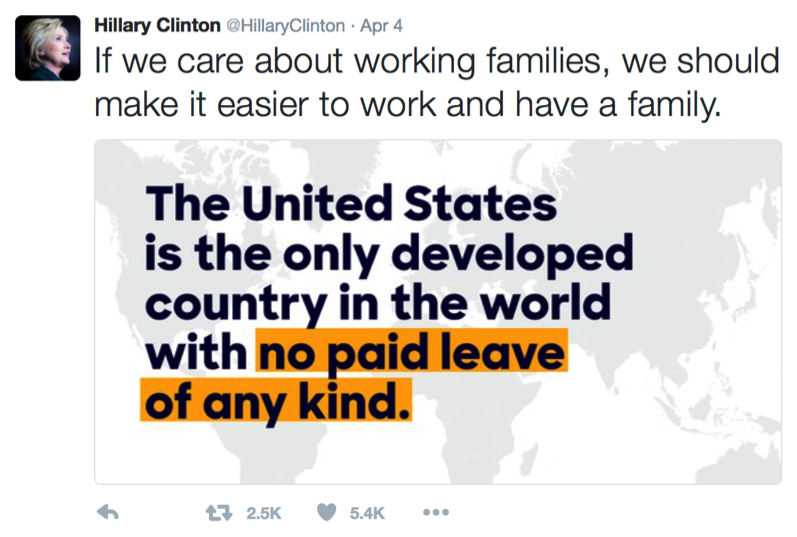 Your company could use stock photos because it is easy, and you might get a good response. However, if you put in a little more time, you could get an amazing response. By putting some effort into your posts, you will likely see a return. Clinton shows that it doesn't even have to be a big effort. These graphics can easily be created online without any design experience or expensive programs like Photoshop.
Marco Rubio: Know your target audience
The senator from Florida has a sizable Twitter despite the fact that he dropped out. I think this could be because he knows how to appeal to his target audience. He showcases his supporters through retweets and appeals to his Spanish-speaking followers with his tweets. You want your tweets to be directed at someone, you just have to figure out who.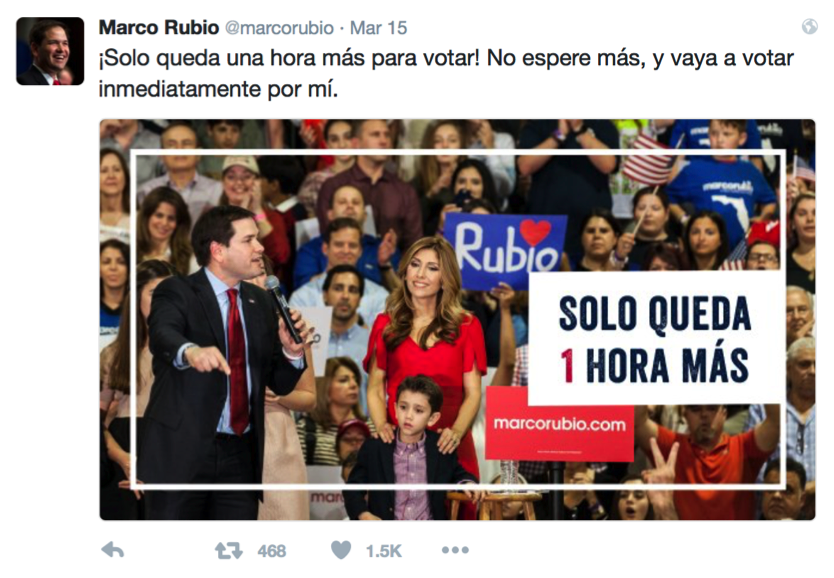 Whatever industry your business is in, you should know exactly who your audience is and the best way to reach them. With inbound marketing, you should know the main "buyer personas" you want to reach. While targeted posts that appeal directly to your buyer personas (like Rubio's Spanish Tweets) might not include all your customers, you have to ask yourself, who is the most likely to actually buy (or vote)? You want to try to reach the people who have the highest likelihood of converting to customers at some point.
Ted Cruz: Self promotion isn't always a bad thing
Senator Cruz is a good example of self promotion and shows that it isn't something to avoid. There is a definite balance between too much and too little, and Cruz seems to hit a sweet spot. He promotes his appearances on various news programs and tells his followers when and where to tune in. He uses strong calls to action rather than dancing around the subject and often will repost the same tweet to gain more visibility.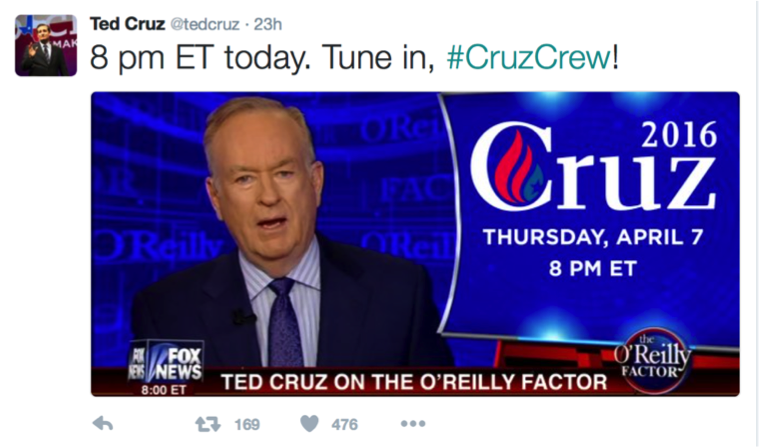 Most businesses are on Twitter for one main reason: promote their business. It is easy to take this too far and constantly post self-promotional nonsense. You have to consider what people want to see. They are probably following you because they like what you have to offer, so don't scare them away. If you have any specials or discounts, Twitter is a good place to post them, or if your business is going to be featured on the news, that is another relevant thing to post. As long as you aren't only promoting yourself, your followers will take a bit of self-promotion here and there.
Conclusions
This race isn't over yet, and we still have the general election on the horizon. We will likely see thousands more tweets for the candidates still in the running and those who are already out of the race. Twitter can spark controversy or it can build support, depending on how it is used. You can use it to help with your presidential campaign, to grow your small business, or to connect with loyal fans. Hopefully, these tips will help you with your social media marketing efforts in the future.