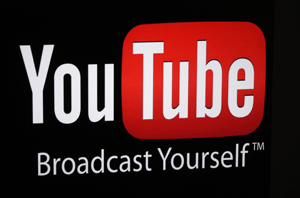 When putting together an online marketing plan for your business, there are a few obvious inclusions: blog, social media, website, etc. But one thing you may unintentionally leave out can have a huge impact on your online success. Video marketing is a fun and creative way to spread your message and gain fans and followers for your company.
With the rise in popularity of YouTube, video has become an important factor in online marketing. Many companies don't even consider doing video for their business, as it can feel a bit overwhelming - but it doesn't have to be! Video cameras can be purchased for just a few hundred dollars, and most smartphones come with a built in device. It's easier than ever to capture whatever you would like on video at a moments notice.
If you're still feeling hesitant, consider these facts found on YouTube's own site: More than 1 BILLION unique viewers visit YouTube each month, with more than 6 billion hours of video being watched. Also, according to Nielsen, YouTube reaches more US adults ages 18-34 than any cable network. That is an incredible amount of traffic that you could be taking advantage of. Think of all the potential new customers you could reach by simply uploading a few videos.
When you first jump into video marketing, it can feel a bit overwhelming. Luckily, it's not as complicated as you think. There are just a few key things to keep in mind to get you started without turning this into an incredibly time-consuming task.
First of all, as with any other method of marketing, you need to think of your target buyer when creating content. What would they like to see? Are there questions that you can answer for them, or specific information you know they need? You could consider a Q&A type format, or a "How-To" series. Keeping the videos short and sweet is also extremely important. Very few people will take the time to sit down and watch a 10-minute video. A good rule of thumb is nothing longer than three minutes, and even that is stretching it.
Another important aspect is in your title and description. Just like with anything else online, you always need to consider SEO. Your title has a lot of power when it comes to bringing in traffic – both in grabbing the attention of viewers and in helping your video rank on the search engines. Use a descriptive title with valuable keywords. Think about what your target viewer might be searching for and use that to your advantage.
When creating your video, be sure to stay away from turning it into a commercial for your business. As with any inbound marketing campaign, the point isn't in trying to "sell". The goal is to provide valuable, informative content that will keep people coming back for more. By answering their questions and dishing out helpful advice, you begin to establish yourself as a leader in your industry and a company that they can rely on when they need the products and services that you have to offer. Include a call to action, directing them toward a detailed landing page on your blog or even your social media sites. Keep them interacting with your brand for as long as possible.
Playing on people's emotions is a great way to draw attention to your videos. If you can make them feel something – happy, sad, outraged, whatever it may be – you have got their attention. This also leads to more video shares. If someone sees a video that moves them in some way, they are much more likely to share it with their friends on their social networks.
Video marketing is becoming something you simply can't afford to ignore. Videos are a great way to grab the attention of unbelievable amounts of viewers who may never visit your site on their own. Videos "go viral" all the time, and the power behind what that could do for your company is unimaginable. By creating unique, informative and valuable content, you could reach a massive audience that you simply never could through other methods.