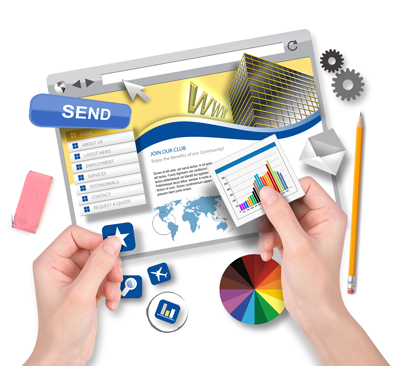 You've shelled out the cash and revamped your company's website. You've got the information that needs to be there, photos and testimonials, links to your blog and social accounts – all laid out in a lovely little package. You know that your website is the face of your business when it comes to your online consumers, so you've made sure you're putting your best foot forward. So, after all that effort, how can you be certain that it's actually doing what it needs to do?
There are a few ways to gauge the online success of your business, the most prominent being web analytics. Web analytics is the measurement, collection, analysis and reporting of web data for purposes of understanding and optimizing web usage. By taking a deeper look at your website data you gain valuable insight into what's working and what might not be.
This information is incredibly beneficial when moving forward with your online marketing efforts. If your analytics prove that a certain type of content brings in a large amount of traffic every time, then you will know that in the future you should focus on pushing out more of that. If each time you post a video to your blog you see a spike in traffic or engagement, then by all means, get to work producing more videos! If "How To" posts bring in the most viewers, then start a regular series of posts with this theme.
You can also learn what you might want to stray away from. If your viewers just really don't seem to connect with a certain type of post, whether it be a particular topic or a particular manner of writing, then you may want to take that off the table for future content. Your target buyers are a specific bunch, and what works for one usually works for most.
For just about anything that you wish to know about your site, there is a way to measure it through analytics. Perhaps you would like to know what keywords are driving the most traffic to your website. In that case, you can set up your analytics to measure the top search terms that are bringing you traffic. Maybe you want to know where the majority of your traffic is originating – search engines, your own social media sites, or referral sites, to name a few. Your analytics can fill you in on that info, as well.
There are many methods of measuring website analytics. You could go with a free service, such as Google Analytics, which can be customized to your preferences. There are a number of other web analytics tools out there, and they vary in what they can deliver as well as in price. If you want a more detailed, in depth look into the ins and outs of your site, then going with a company who specializes in analytics and can deliver that information might be your best bet.
Aside from analytics, taking a look at your social sites is another good indicator of success. When it comes to your blog, which posts get the most feedback or shares? On your social sites such as Facebook or Twitter, what tends to get the most engagement? Your fans and followers are what keep your business afloat, so paying attention to what they like to see will allow you to deliver the best web experience for them.
To truly understand the return on investment your online marketing efforts are providing to your business, you need to take a good, long look at your web analytics. This will allow you to make any changes that need to be made to create the best website for your business that you possibly can. To read more on this topic, download our free eBook "10 Steps to Turn Your Website Into a Lead Generating Machine".