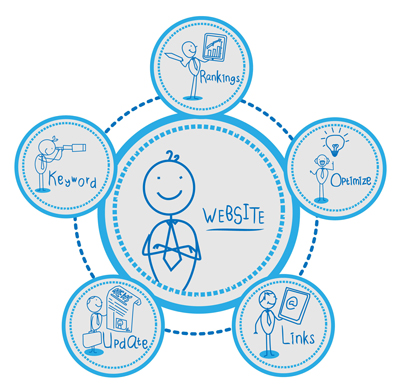 Returning new leads is one of the biggest benefits your website can offer your business. It's important that you learn the best way to use your site so that it works to your advantage. Simply having a static site that provides information and little more won't get the job done in today's web-friendly world. You'll need to put in a little effort in order to make your website work as hard as it can for your business. Read the article below for tips on the best way to get leads through your website.
In order to generate quality leads, you will need to bring traffic to your blog. The best way to do this is through search engine optimization (SEO) and quality content. SEO is the process of attempting to move your website and individual webpages to the top of the search engine's organic results. There are a number of things you can do for SEO – here a few of the most essential:
1. You should generate consistent content that you think your buyer persona will find useful, and that also includes your target keywords;
2. You should update your blog and site pages as frequently as possible;
3. You should use keywords in your website's URL, copy, and meta tags whenever it makes sense;
4. You should engage with your fans and followers on your social media sites often, always leading them back to your site.
By following these simple steps you should begin to see an increase in traffic to your site.
Another key part of lead generation is to ensure that your website plays the part. Your site should be pleasant to look at, with no obnoxious colors or difficult-to-read fonts. The navigation should be simple, and it should provide a clear path to where you need your visitors to go. Contact pages, content offers, and capture forms should be the primary landing spots. Links to your social media sites and blog will need to be easy to spot since most visitors will be interested in checking out everything you have to offer.
Finally, content offers are going to be what drive it all home. If you can offer potential buyers something that they want or need, they will be happy to provide their contact information in exchange. A few examples of great content offers are eBooks, tip sheets, whitepapers, "how-to" videos, and informative infographics. If the topic is something that truly intrigues your target buyer group, they will be quick to fill out your capture form in order to receive their free download.
Once you've gathered these leads, your sales team can quickly move on to converting them into paying customers. The best thing about the leads gained from your website is that, more often than not, these visitors have arrived at your site of their own accord. They likely conducted a web search for a business who provides products and services that you offer, or typed a question into the search engine that your quality content was able to answer. These leads are different than anything your sales team could have obtained through traditional methods – meaning these leads are much more likely to seal the deal and make a purchase. When you look at things in that light, you will see why it is absolutely essential to make your website do the work it's meant to do. To get a more in depth look, download our free "Guide to Online Lead Generation for Business Owners" eBook.