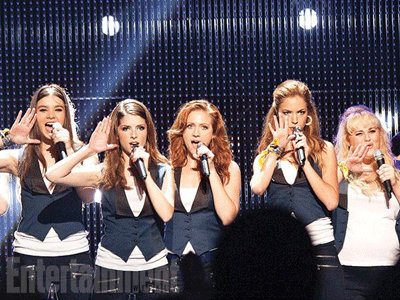 I'm going to be honest with you: I didn't really want to see the first Pitch Perfect movie. It looked OK, and Anna Kendrick is a delight, but I found Rebel Wilson a bit annoying and saw Pitch Perfect for what it was: an off-the-wall passion project without much of a budget or star power. And it's about college a Capella groups. Seriously?
But the local theater shows discounted movies on Tuesdays, so I gave Pitch Perfect a shot. And imagine my surprise when I found it both very funny and pretty darn entertaining. And Anna Kendrick remains a delight.
This "little movie that could" ended up becoming a surprise cult smash, and the second film was released last month to generally positive reviews and some major success at the box office (nearly $230 million worldwide). And yes, I was there with my friends on opening weekend, which I'm only slightly ashamed to admit.
So what can this modern success story teach us about marketing? Plenty. Here are just a couple of the lessons to take away:
Quality always wins out in the end
One of the reasons the first Pitch Perfect movie was a success was because of the amount of work that went into it. Actress Elizabeth Banks (who you've definitely seen in at least one movie before) was a producer for the first movie, raising money and even portraying one of the film's color commentators to try to add a little star power to the cast. It also featured several up-and-coming young actresses, such as Kendrick, Wilson and Brittany Snow. Despite their lack of fame, all three are talented actresses, and Kendrick was ready to show off her leading lady abilities. The result? Unexpectedly strong performances.
So even though the movie had a small budget and minimal hype, there was still plenty of quality present. And that quality cannot be hidden.
What does this teach us about marketing? Value quality over everything else. It doesn't matter if you don't have Hemingway writing your content; you can still produce strong blogs and content offers. Just because they don't have the hype doesn't mean they aren't worth reading.
The market is there for almost any product
Pitch Perfect is an extremely oddball concept to pitch to movie studios (which is probably why none of the big ones wanted to fund it): an all-female group of college a Capella singers has to win a championship. The movie also featured a Capella renditions of several popular contemporary songs, with none of the major artists present. I mean, heck, even Drumline (which had a relatable concept) was able to get rapper Petey Pablo to make a cameo appearance.
And yet, Pitch Perfect found an audience. And because it was a good movie, positive word of mouth allowed that audience to grow even larger.
We have several clients here at Rhino, and some of them have some niche products/services. But even niche products have potential customers, and these businesses are still generating leads. The lesson? The audience/market is there. Don't worry about the limited appeal you fear your products have. Just start marketing them, and you'll be pleasantly surprised at the amount of leads you'll receive.