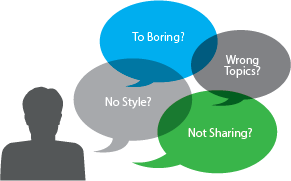 When you begin blogging for your business, obviously the hope is that your blog will immediately be incredibly successful overnight with thousands of views resulting in promising leads. If you've been at it for awhile and you aren't seeing those type of results – or many results at all – there are a few things you can do to ensure that you're giving it your best shot. Take a look at the below list for some tips and tricks to get you started.
SEO
Search Engine Optimization (SEO) is absolutely vital for your blogging success. If you aren't currently following SEO best practices your blog will suffer, there's no way around it. The great thing is that it's not difficult to get started on the right path to SEO success.
Here are a few easy ways you can begin to optimize your blog today:
Include your target keyword in your URL
Include target keywords in all blog post titles
Add tags and titles to your images
Add keywords to title tags, meta descriptions, and throughout the body of your content
These simple suggestions will have your blog climbing up the ranks in the search engine results in no time. Be sure to choose keywords that your customers are searching for in order to return the most promising leads, and avoid keyword stuffing, which is basically oversaturating your blog post with keywords to the point that it makes very little sense.
Content
One of the best things you can do to gain a loyal following is to provide interesting, valuable content. The majority of people online are looking for answers, and if your content can provide what they are looking for they will begin to see your business as a valuable asset to them in their quest.
When writing content it's important to value quality over quantity. Obviously you want to consistently push out content in order to bring more eyes to your page and increase your odds of being found, but if that content is lacking in substance, it will do you little good. In order for viewers to appreciate what they're seeing and keep coming back for more, you must consistently push out great content – content that they want to share with others and save for themselves. In ensuring that this is the type of content you are publishing, you establish yourself as a reliable source of information they know they can count on.
Design
If your blog needs updates to it's design or navigation, make sure that it is done immediately. Nothing is more frustrating than visiting a website that is unpleasant to look at or difficult to navigate. You should create clear paths to the content that people are looking for. If they are coming to your blog from an outside offer or call-to-action, make sure that they are directed to a landing page that gives them what they are looking for right away. No one wants to feel like they're wasting their time, and if they have a hard time finding what they need from you, they will click out of your site without a second thought.
These simple changes can make a world of difference in the success of your blog. By taking the time to write informative, interesting, SEO friendly content, you are taking a big step in the right direction. Ensuring that your blog provides a pleasant experience for the reader is the icing on the cake. Before you know it your readership will increase into a loyal following that can't wait for your next post. To read more, download our FREE eBook on "Blogging for Business."