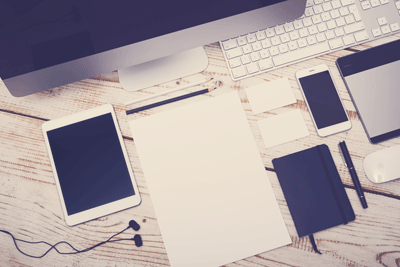 What many marketing professionals dubbed as "mobilegeddon" in the search engine world, finally began rolling out on April 21. Google's latest algorithm update is meant to reward websites that are mobile-friendly in search engine results and, according to its nickname, destroy those that aren't. This may seem cruel to some business owners, but the truth is that our world is becoming increasingly more mobile. Between cell phones and tablets, our faces are constantly buried in a screen, and our thumbs constantly scrolling up and down. It' s a wonder that Google didn't implement "mobilegeddon" sooner. However, as it rolls out and we learn more about its effect on websites, there are already some things that we can learn simply from its existence. Here are three of them:
Code responsively
No matter who you hire to build your website, it's crucial that the developer understands how to code for responsive design. Responsive means that your website responds and adjusts to fit to any screen – mobile or desktop. Not only should it fit, but it should be fully optimized for that screen. The content, spacing, headers, everything should look just as pretty as it does on the computer at your desk. Google will love your website forever… or at least until it rolls out another algorithm change. Regardless, if your website is fully responsive, then you can consider yourself sheltered from "mobilegeddon."
What fully optimized content looks like
Think about what most government and education websites usually look like. They generally have small type, little pictures and a lot of information crammed into a small space. Now imagine reading through one of these on your phone. Sounds painful. A lot of people will likely opt out, and Google knows this. The information on these websites is usually pretty valuable, but being responsive is everything. One of the concerns about the new algorithm change is that it will make .edu sites with valuable information rank lower in search results. It's still too early to tell, but a lot of them may need a makeover. Another example is Reddit. A lot of people love Reddit, but it is doubtful many people read it on their phones because it's not optimized for that. What has happened because of this? Reddit has dropped in search rankings since the new update rolled out.
You'll need content creators and designers who can see your website through a mobile-friendly lens. It needs to look good and capture the attention spans of people reading and scrolling through it on mobile devices. How long will people scroll? Should an article be shorter? Is a picture the right size? The right brightness/contrast? These are all things that Google is forcing us to think about as we move deeper and deeper into the world of mobile.
The world is going mobile
The main reason that Google exists is to offer their users the most personalized and useful experience possible. A large part of website utility is now a person's ability to use it on the go. It's the ability for them to have a thought, think of a question, be able to open the Google app on their phone and immediately get the answer. And not only get the answer, but be entertained by great content. Adhering to this sort of utility will only work to your advantage when trying to draw in and close leads. In fact, if your website is optimized for mobile, then Google is doing your business a huge favor with their new algorithm update. Whether Google rolled out a new update or not, your customer base was still going to be looking for answers by searching on their mobile device.
The good news is that if your website is responsive with mobile-optimized content, then your business should be just fine in terms of search engine rankings. If it's not, then "mobilegeddon" may become a harsh reality for you. If you're unsure, Google has provided a testing tool that you can run your website through to see if it makes the mobile cut.