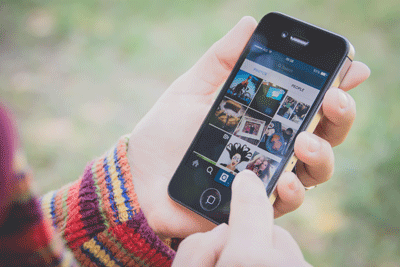 Social media is one of the most transformative platforms in the tech world, never staying the same for longer than a few months at a time. It all began a long time ago with the short-lived Friendster, followed by a brief stint where MySpace ruled the world. Then came Facebook, then Twitter, and so on and so forth.
So what's the most popular social media site now? In 2015, none is bigger than Instagram (also known as Insta or IG). If you're not familiar with the site, it's a pretty easy concept to understand: every "status update" is an image upload, accompanied by a caption and usually a few hashtags. That's it. Pretty simple, right?
Perhaps it's that simplicity that has captured the imagination of America's youth – or maybe they're all just trying to get away from their parents, who are now on Facebook. Regardless, Instagram is the social media platform of the moment, and you should be doing everything you can take advantage of it for your business.
Want to know how to leverage Instagram for your marketing purposes? Read on, and learn the four benefits of Instagram marketing for e-commerce brands.
Reaching those coveted, high-spending youngsters
As mentioned above, Instagram is where the young people are now. More than half (53 percent) of 18-29 year-old internet users are active on Instagram, a major jump from 37 percent in 2013. And if there's one thing we know about young people, it's that they love to spend money. Many of them have jobs but few expenses, and therefore have plenty of discretionary income to burn. By reaching these youngsters, you not only interact with free-spending potential customers, you can also begin a customer relationship that can last for decades to come.
The ability to build brand awareness through repetition
One of the ways brands can permeate the public consciousness is through repetition. If we expose the audience to our branding often enough, they'll soon be able to recognize it easily. For example, you may not be a fast food eater, but I bet you recognize the In-N-Out Burger logo anyway.
On Instagram, you can feel free to post multiple times per day, even repeating some posts. The Instagram timeline is just like the Twitter timeline: always moving forward, never stopping. Therefore, the chances of a follower seeing your post more than once are small, even if they spend all day on the social media platform.
By posting throughout the day, while always keeping your branding and logo consistent, you allow your followers to establish a link between your company and your branding. So whatever your logo is, followers will soon begin to automatically associate it with your business.
Unfettered access to your audience
One of the most frustrating parts of Facebook marketing has been their attempts to make businesses pay for their marketing services. When Facebook went public in 2012, the company suddenly had to figure out a way to make money from its massive user base. One of its tactics was to start limiting the organic reach of business pages – unless you pay for Facebook advertising, of course.
Instagram has no such limitations. As it currently stands, every single one of your Instagram followers will be able to see all of your posts. Take advantage of this access while you can; Facebook owns Instagram, so there's no telling how long this will last.
The opportunity to instantly post across multiple channels
Sometimes, you don't have time to post on every social media channel, especially if you're the only person managing your social media pages. However, Instagram can help you sidestep this issue. Whenever you upload an image to Instagram, you can also cross-post the same image to Facebook, Twitter, Tumblr and Flickr. But this isn't just useful for those short on time – it's also very convenient if you simply want to share your Instagram photo with multiple audiences.