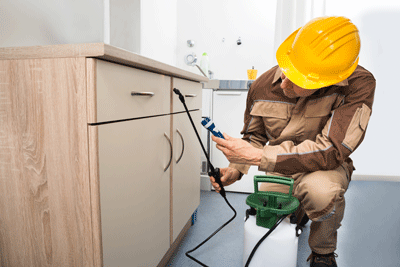 Pest control companies often rely on word of mouth, print advertisements, yellow pages, or direct mail to get new customers. These techniques may have worked well enough in the past, but these days they just won't cut it. This is the digital age, and recent research states, "people are spending twice as much time online compared to 10 years ago" and "the average adult internet user claims to spend over 20 hours online per week." I would say that is a pretty conservative estimate and younger generations probably clock many more hours. With numbers like that, you are missing a huge market by avoiding digital marketing!
You might think that nobody wants to see ads for pest control online, and you would be right. Digital marketing is not about just advertisements, which are often categorized as interruptive, outbound marketing. Many more businesses are turning to inbound marketing to achieve their sales goals. Pest control companies can definitely benefit from this new type of marketing and see an increase in leads and customers. Here are four inbound marketing inspired ideas to help jump start your efforts.
Start a blog
Blogging is a key part of the "attract" phase of the inbound methodology. It brings strangers to you and introduces them to what you have to offer. You aren't selling yourself to them yet. A blog is all about providing information and establishing your company as a knowledgeable authority in your industry. According to HubSpot, "Marketers who prioritized blogging are 13x more likely to enjoy positive return on investment." The great thing about blogs is that they are easy to set up and free!
For pest control companies a blog is a great way to drive traffic to your website. Everyday people encounter pest problems on a daily basis and most have no idea what to do in those situations. The first place they turn to for help is not the yellow pages; more often then not, they will ask our trusty friend Google for advice. If your company writes useful blog posts about relevant topics like "Step by step guide to rid your house of ants" or "How to determine if you have a termite problem," your website is more likely to be found by the right people. With traditional marketing techniques, you are spending lots of money to reach as many people as possible, but with blogs your ideal customers will come find you.
Redesign your website
Your website is your potential customer's first impression of your business, and everyone knows the old saying about first impressions. Your website reflects what you have to offer, so if your site is messy, not pleasing to look at, and disorganized, that is what customers will associate with your name. A website can be a powerful sales tool and lead generation machine but you have to know how to make it so.
I have looked at many pest control websites and been surprised at the poor layout and design. It usually only takes me about five seconds to skim a page and decide whether or not to stay or go. This is often referred to as the "blink test" and is something every business needs to take into consideration when creating their website. The page should be easy to navigate, and it should be clear what services or products your business provides. For pest control companies, don't waste a visitors' time listing all the hundreds of pests you exterminate! Keep your pages informative but not overwhelming and boring. Your website should be creating leads, not driving them away.
Create social media accounts
It is easy to underestimate the impact of social media on consumers, but it can play a huge role in how people decide what to buy and what businesses people choose to buy from. Don't stick your nose up at Twitter and Facebook as silly websites for young kids. According to Sprout Social, "73% of adults 30-49 use Facebook," "27% of adults who make over $75,000 use Twitter," and "30% of adults 50-64 use LinkedIn." These audiences are key targets for pest control companies and represent a potential market you are ignoring by avoiding social media!
With social media you can interact directly with your current customers and complete strangers who might one day be customers. It adds personality to your brand and makes it more relatable and human. By just posting a few times per week on several different social media accounts, you can build a following of fans who want to hear what you have to say. Think of social media as online word of mouth advertising! It is free to set up these accounts, so what are you waiting for?
Don't forget about emails
Email marketing is still alive and well. It is an inexpensive way to reach out to leads as well as your current and past customers. Hopefully, you have been keeping a contact list with important information like email addresses! Pest control companies can use email to promote new offers like seasonal discounts, announce new services like chemical-free bed bug extermination, or request feedback and reviews from satisfied customers.
According to Mailgen, "89% of marketers said that email was their primary channel for lead generation." There are plenty of email marketing software automation solutions out there, but you can always just send emails the old fashioned way. With the proliferation of smart phones, you can send personalized messages right to someone's pocket and reach them wherever they are.
Your pest control company has a lot to offer people, but first you need to let everyone know you exist. Don't bother wasting thousands and thousands of dollars on traditional advertising. Let the customers come to you through inbound marketing techniques, and start to see your business take off!