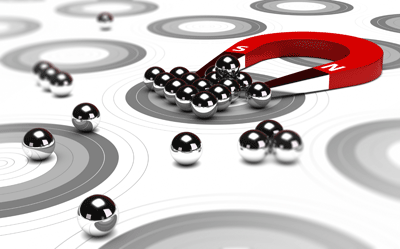 If you've ever seen the film Primary Colors (which is a very thinly veiled biopic of Bill Clinton's first presidential campaign), there's an amusing scene where the youngest member of the staff is said to have "TB." And that didn't stand for TB's most common meaning (tuberculosis). Some colleagues were accusing the young man of being a "True Believer"; he really believed in Clinton as a person and a candidate. In the world of politics, that isn't exactly a bad thing, but it's definitely a good way to have your hopes dashed and innocence destroyed.
Well, when it comes to inbound marketing, I'm guilty of having TB. I truly believe in this method, because I've seen the kind of success we've had with it. If you commit yourself to inbound marketing, I have no doubts that it will work for you. But just because the method is successful in bringing in leads doesn't mean you're going to get sales – that still requires some work. If your leads aren't converting, here are four possible reasons why:
Your sales people are not getting it done
This isn't a problem I can really help you with, other than to tell you that it's fairly common. Sales is a very difficult job, and not everyone is cut out for it. If your sales people are failing to convert at least 4-5 percent of leads, they're probably doing something wrong. These employees will either need to be trained, or you're going to have to find new salespeople.
You aren't giving your salespeople the proper tools
Sometimes, salespeople simply have too many leads to deal with, which means some will inevitably get lost in the shuffle. To avoid this problem, provide your salespeople with some helpful tools. For instance, you should invest in a CRM (Customer Relationship Management) system. If you use HubSpot's marketing software (like we do!), then you actually have access to a completely free CRM.
A CRM allows your salespeople to track every lead and every interaction with them, so any person can review the file and instantly understand where you stand with the lead. Additionally, CRMs like HubSpot's can actually let you make phone calls or send emails directly from the contact's file in the CRM.
You're not highlighting the benefits of your company and/or your products
I know inbound marketing is supposed to be about providing value to your site visitors, but let's not forget the bottom line: we're not doing this for free. The end goal is still to drive sales and increase your customer base. So be sure to spend some time on your site highlighting your company and its products. Sure, this shouldn't happen in your blog articles, but there's more to your site than just that! Talk up your products in other parts of the site, and make it clear why visitors should choose to do business with you.
Your price points are out of whack
I include these here because I want to ensure you cover every possibility, but this should be more of a last resort. If you have tried every other method mentioned here and you still can't drive sales, then your prices could be to blame. Are your products too expensive? Take a good, hard look at your offerings and try to determine if your products are worth it. Price check competitors as well and try to figure out the fair value of your products. If your prices don't match up with the products' perceived value, then you know something has to change.