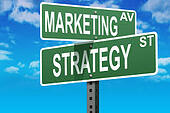 So you want a new and innovative marketing strategy for your company? Well, in today's world that all starts with inbound marketing techniques. Inbound marketing is quickly becoming a vital part of many company's marketing strategies and solutions. The focus of inbound marketing is to attract visitors to your company via Internet, whether it be your website, social media, or blog. You want to attract these potential customers through specifically designed content for things that are of interest to them. Let's take a look at 5 innovative marketing strategies that your company might just need.
1. Blog, blog again, then blog some more. This is one of the best places to start if you want to begin connecting with your ideal audience and start driving traffic to your website. Blogging allows you to create relevant, interesting, and personal content for your audience.
According to HubSpot, on average a company that blogs will generate 55% more website visitors.
Whether you think this is innovative marketing or not, it works.
2. Utilize calls-to-action buttons. Calls-to-action, or CTA's, should be placed on every page of your website with the sole purpose of driving traffic to a specific landing page you have created. By having these CTA buttons, you are increasing the odds of visitors turning into actual leads. How do you do this exactly? That leads me to my next point.
3. Create landing pages. A landing page is a page that is designed specifically for converting these website visitors into leads. The way you do this is by first having a compelling content offer that they just need to have. This could be something simple like an eBook, Whitepaper, video, or webinar. Once you have a page that spells out what you are offering in a clear and concise way, include a form they must fill out to receive the offer. That way you are receiving part of their contact information, specifically their e-mail, in exchange for your offer!
4. Create premium content offers. All content produced should be of high quality. Even though this content is free to the audience, it needs to be of value in order for them to see your brand as credible. This is where innovative marketing begins. Be a trend setter, not a trend follower.
5. Build an e-mail nurturing campaign. This is a very important piece of your new innovative marketing puzzle. Although you probably think this is not creative at all and e-mail marketing has been around forever, it is actually the way you send e-mails that is innovative. Instead of bombarding your gathered leads with information about your company and promoting your products or services, send those people content they are interested in. Content related to what they originally gave you their e-mail in order to receive. This will help you build a relationship with them, instead of constantly trying to sell them.
This is just an introduction to developing new marketing strategies for your company. To see a much more in depth look at how inbound marketing really works, download our eBook on how Inbound marketing drives real results: