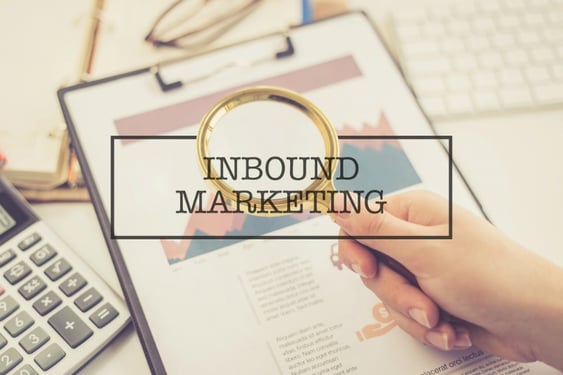 You don't have to spend too much time reading our blog or website content to see that we're big fans of HubSpot's marketing automation software. As a matter of fact, there have already been dozens of blog articles on this site discussing HubSpot's offerings and how they can be used to elevate your digital marketing efforts to a new level. For those of you who have already been following our writing on the subject, I don't want to be too repetitive, but since it's a new year, I'll recap some of the main reasons that we've become such outspoken advocates of the HubSpot platform:
Its name has almost become synonymous with Inbound Marketing.
Another point that we're always talking about here at Rhino is that old school methods of marketing are no longer as effective as they used to be. Print ads, cold calls, and other forms of "outbound" marketing interrupt and distract your potential customers from their already busy lifestyle. Not only are we as a culture no longer receptive to that type of approach, but we've all learned to filter it out and ignore. Inbound marketing works by attracting customers to you, rather than pushing yourself in front of them. HubSpot doesn't just understand inbound methodology, they just about invented it. It was actually HubSpot's co-founder and CEO, Brian Halligan who first used the term, over ten years ago.
It's a fully integrated platform.
I could easily spend the rest of this piece talking about all the amazing features of HubSpot, like its blogging platform, which is amazingly easy to use to write on and to share to all of your social media outlets. Or the WYSIWYG web page editor, which allows you to write and edit beautiful, professional, stylized pages, without ever needing to write a line of code. Or the brilliant contact database, which is kind of like your address book on steroids, linking to each contact's social media profiles, and tracking and cataloging every interaction you have with that individual. But we've covered these at great length already. Before we move on, I'd like to leave you with the thought that what makes HubSpot so great is not just its individual features, but that fact that it does all of them. I like to say that it's more than the sum of its parts: an all-in-one, fully integrated marketing platform. From the earliest stages of lead generation, every step of the "buyer's journey" can be managed and tracked from within the HubSpot platform, with detailed analytics available for each activity along the way.
HubSpot Subscriptions.
Now that I've summarized the reasons we love HubSpot as much as we do, let's get back to the topic at hand: HubSpot subscriptions. We're not just fans of the platform. We even advise our clients to invest in it, because we've seen that it's the best tool to use to manage your inbound marketing campaigns. We believe in it so much that we've partnered with HubSpot, and have actually joined the elite group of Gold Tier HubSpot partners, giving us access to additional support from HubSpot themselves, which we, of course, pass on to our clients. As a further testimony to the platform's power (and, if I may, our own abilities), we've won awards for some of the websites that we've built using the HubSpot platform.
Yes, you will have to pay for it, and hopefully that doesn't surprise you. Nothing comes for free, especially tools that you can use to make money. HubSpot offers subscriptions on three levels: Basic, Pro, and Enterprise. The Basic plan is really an entry-level subscription, for a very small shop with a small number of contacts, who wants to get a taste of how the inbound process and HubSpot work. For the purposes of this article, let's focus on the upgraded levels: Pro and Enterprise. Let's look at the differences between the two.
Price.
We wish it weren't like this, but we've been in business for a long time, and we know the first question we hear from many potential clients: "How much will this cost me?". Ultimately, it's all about the bottom line, right? So let's get this point out of the way first. The Pro subscription currently costs $800 per month, while the Enterprise subscription will set you back $2400 monthly. There are also one-time onboarding fees of $3000 and $5000, respectively, but those fees are waived when you work with an agency that partners with HubSpot (like us!).
Size Of Your Customer Base.
Apart from the cost, the primary factor in selecting which subscription to buy is going to be the size of your target audience. I omitted the basic level from this discussion, primarily because it limits you to 100 contacts at the base price (You can add more contacts, at an additional cost). So unless you're a one or two person shop, with a very small contact database, this one won't make sense.
The Pro subscription brings you right up to, well, a professional level, allowing 1000 contacts for your monthly fee, with the option to expand further at a cost of $50/month for every additional 1000 you add. The Enterprise Hubspot subscription starts with a base of 10,000 contacts, and allows you to increase that number at a rate of $10 per 1000. So, doing some quick math, unless you have tens of thousands of contacts, the numbers for the Pro subscription make more sense.
Additional Features.
Again, I'm not really concerning myself with the Basic level subscription here, as it's something of a stripped-down version of the very popular Pro subscription. At any level, a HubSpot subscription includes most of the goodies we've been talking about in general, such as the content management system (CMS), blogging and web page creation tools, SEO tools, and the basic analytics. At the Pro level, however, more exciting goodies become available. Among these are the ability to create custom workflows, which are essentially actions that are triggered by something done by a visitor to your website. For example, follow a particular link, or filling in a form, can be set to cause an automated response, as part of a lead nurturing program. These workflows become a great time-saver as your contact list grows. Another feature we love in the Pro subscription is the ability to create "smart", personalized fields in your emails or landing pages, allowing your contacts to see content which is addressed directly to them.
Each level of subscription contains everything in the level below it, with some additional features. Upgrading to the Enterprise level adds a few new bits of functionality. These include the ability to create A/B testing pages to try out different features on your landing pages, predictive lead scoring, to calculate a more informed way of rating your leads, and more advanced reporting features.
To be honest, unless you already have a very large customer base, or are experienced enough with inbound marketing that you're ready to try out some of the more advanced features, the Enterprise subscription is probably not needed at first. For most small to medium sized companies, the Pro subscription will be sufficient, and should really improve your marketing campaigns.