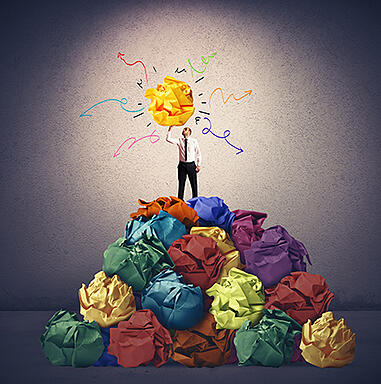 Valuable content offers are at the very basis of a successful inbound marketing campaign. Without offering online viewers something they want or need in exchange for their contact information, you are missing out on a simple way to bring in large numbers of potential leads. Creating a content offer that will grab the attention of your target buyer and entice them to communicate with your company further isn't a difficult task once you've determined the core pain points of your client base. The idea is simple: give them what they want, and in turn they will give you what you need.
There are several ways that you can go about creating a content offer for your target buyer group. One of the simplest is to take your old content and turn it into something new. Gather several old blog posts discussing a similar topic and turn those into a downloadable whitepaper or eBook. The consumer gets a valuable piece of content that answers a question that they have or provides some insight into an issue they are facing, and in exchange you will receive whatever contact information you have requested from them.
Another winning formula is to create a "How-To" guide for something that you know your buyers need to know. This type of content is always popular as it is the step-by-step guide users sometimes feel they need. If you own a pest control company for example, you could create an offer titled "How To Rid Your Home of Common Pests" or "How To Know if You Have Bed Bugs". If someone has done a search for either of those issues, finding a simple how-to that will answer all of their questions will seem to be well worth their contact info.
There are likely a number of questions that you hear from your customers over and over. Since you know the majority of your buyers are faced with the same issues, take those questions and turn them into a tip sheet of sorts. Answer their questions and tack on some useful advice. This is great as an online content offer and can even be used in other capacities.
Informative Power Point presentations are another possibility for a valuable content offer. You can take a presentation that you've already done in the past and update it to fit the needs of your target buyer group, or you can create one from scratch over a topic you know will draw attention and answer pertinent questions. Power Point presentations are always a great way to share information because they are attractive and get to the point quickly, both things that are important in today's over-loaded, extremely-pressed-for-time world.
Informative videos are also an option that could work for your content offers. It's easier than ever to create a quality video, and video content is notorious for ranking high on the search engine results pages, and also for bringing in a lot of traffic. Create short, educational videos that describe in detail how to deal with a problem your buyers might be facing, or do a Q&A type video that answers several common questions that you hear. Videos are also frequently shared, so this content type could be spread far and wide.
After you have created a premium content offer, it's time to get it out to the masses. Be sure to promote your offers in every way possible. Send out emails with the offer included, mention it in blog posts, feature it prominently on your website, add it to your newsletter – the possibilities are endless.
Keep things fresh by consistently adding new content offers to your collection, and evaluate frequently to determine which offers are the most successful. This will help you to decide going forward what type of content to focus on and what to pull back from. Valuable content offers are one of the simplest ways to bring in qualified leads for your business, and the time and effort you put into to creating them will certainly be well worth it.