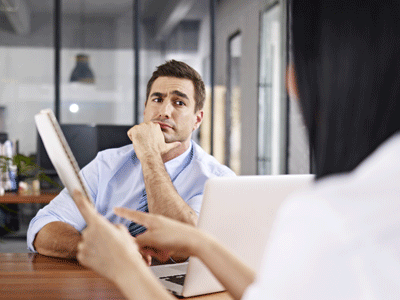 Since you're reading this blog post, I'm going to assume that you've already spent some on this site and blog, and have come to understand at least a little about the value of inbound marketing. And if that's correct, we're happy you've made it this far. But unless you're the ultimate decision maker in terms of how your company spends its marketing dollars, there's going to be at least one other person you're going to need to win over. And convincing your boss that hiring an inbound marketing agency is the solution the company needs may be something of a challenge, especially if things have been done a certain way for a long time.
Traditions and habits are both difficult to overcome. While your boss undoubtedly wants more business (who doesn't?), he or she may be awfully set on continuing to do things the way they've always been done. This kind of situation always reminds me of a quote which I've heard misattributed to Einstein, Mark Twain, and even Ben Franklin: the definition of insanity is doing the same thing over and over and expecting to get different results. Of course, this is neither politically correct nor clinically accurate. But still, it says a lot about the manner in which people do things in business. And is there anyone who's spent years in the working world who has never had a boss they thought was crazy?
Still, there are enough valid points demonstrating the value of an inbound marketing agency which you can use to try to pitch the idea to even the most stubborn of managers. Ultimately, we think that like with most things, it comes down to dollars and cents. Consider the cost that is often spent on traditional advertising methods. In contrast, while the agency is not going to work for free, the costs of inbound marketing are usually considerably lower than old school methods. Apart from the time spent in creating content, there's really not much cost in putting up a blog, and updating it a few times a week.
The cost issue may come into focus a little more clearly when you put it in terms of ROI (return on investment), something which is extremely important to managers of all levels including business owners. Look at what the company is paying for traditional methods like yellow pages ads, and weigh that against the number of leads those ads are generating. This will be very likely to produce some dramatic results, especially if you've been spending money on print ads, which are rapidly becoming extremely outdated.
Another point to bring into the discussion is the flexibility of inbound marketing in comparison to static tools like print ads or billboards. Once those are up, they're not changing, at least not without significant cost. Online marketing, especially content marketing is highly adaptable. If you're not pleased with the way things are going, it's simple and inexpensive to change the ads, or post new content. You can even do this on a regular basis to test the effectiveness of differently approaches, different keywords, and so on.
If you're able to gain some traction, but not enough to fully win the boss over, don't hesitate to reach out to an inbound marketing agency to come in and complete the pitch, so to speak. Many of our clients started out with a fair amount of skepticism, but have ended up being more than pleased with the results that we've been able to produce. If you can get the boss to give us some face time or even a phone call, we'll be happy to come in and explain the values of inbound marketing.