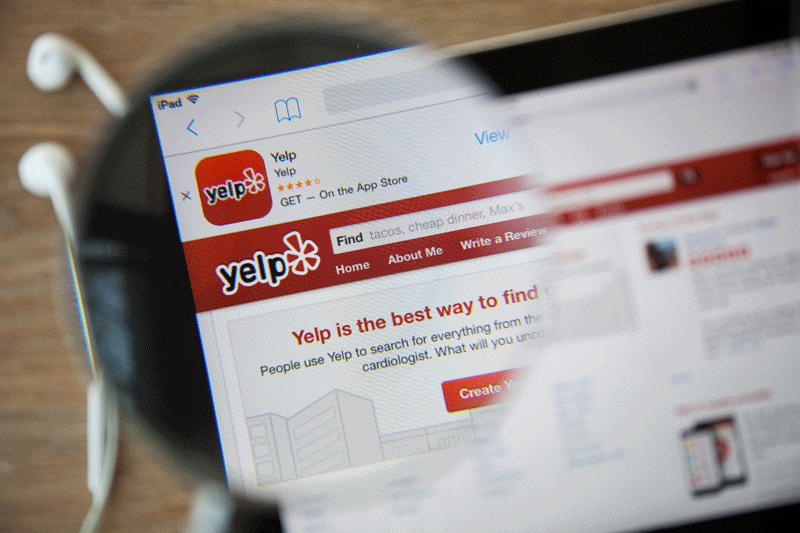 Between Yelp, Angie's List, Google Reviews, and countless others, there are plenty of ways for customers to write a glowing commendation or a brutally honest attack on your business. The question many business owners have is: are these reviews important or frivolous? Will they have any impact on actual customers?
Review sites are incredibly popular and show up in the top results on many search engines. A 2015 study by BrightLocal found some very interesting results.
"92% of consumers now read online reviews"
"40% of consumers form an opinion by reading just 1-3 reviews"
"Only 13% of consumers consider using a business that has a 1 or 2 star ranking"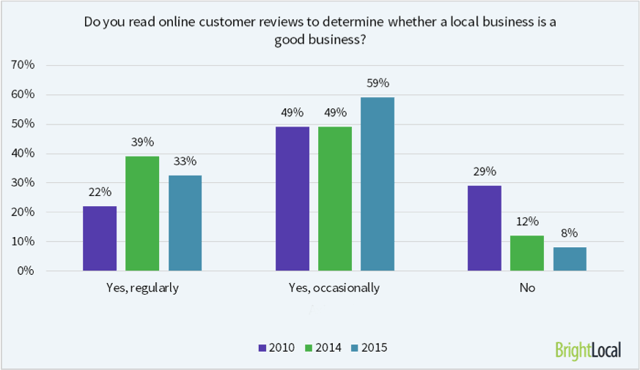 The data seems to support the belief that reviews are necessary for businesses. Similar to word-of-mouth, online reviews help people determine whether or not to visit a business. It is clear that reviews are important and trusted by consumers, but how can your business get them?
Determine the appropriate review sites
There are different sites depending on your industry, so you want to only pick the most relevant ones. Vacation related ones usually flock towards TripAdvisor, Booking.com, and Hotels.com, while restaurants dominate on Yelp and Google Reviews. Look to where your competitors are listed, which will give you a good idea of where to begin.
I would highly recommend every business try to get Google Reviews because these help your ranking and are often the first rating searchers see. Google recently wrote an article entitled, "Improve your local ranking on Google" where they stated:
"High-quality, positive reviews from your customers will improve your business's visibility and increase the likelihood that a potential customer will visit your location"
When joining a new site or claiming your listing, always make sure your business meets any requirements. Read all the restrictions or rules for each site to make sure you don't violate any of them.
Make sure your business information is accurate
If you are trying to get reviews, you need to make sure your customers can find the right business. Any Name, Address, or Phone Number (NAP) inconsistency could be both harming your search engine optimization and making it difficult for customers to leave reviews. You might have three Yelp pages that you never even set up, so it is important to check these sites before setting up an official account.
When you find your business listing on a review site, it is important to claim it and ensure all the information is 100% accurate. If a customer has to click through several different pages trying to figure out which one represents your business, you have probably lost the chance.
How do you get reviews?
Should you ask customers? Give them an incentive to leave reviews? Not say anything? Promote it on your website? Well, it depends on the site and the person. For example, the review giant Yelp specifically says, "Don't Ask for Reviews!" They will put any reviews that they believe were asked for into the dreaded "not recommended" section, which won't count towards your star rating. Rather than directly ask Yelp shares these tips:
Put a badge and link to your Yelp listing on your website using Yelp's review badges - we provide the code, you just paste it into your website. The review averages and counts even update automatically as new reviews come in!
Put a "Find us on Yelp" sign in your place of business, on the front counter or window. These have even been spotted on business-branded vehicles. You can make your own using our brand assets, or request one from Yelp using this form.
Include a link to your Yelp business listing in your email signature with the words, "Check us out on Yelp!
In contrast, Google says, "customers and businesses both benefit when a business is reviewed." Their tips include:
Remind your customers to leave feedback on Google. Simply reminding customers that it's quick and easy to leave feedback on Google on mobile or desktop can help your business stand out from sites with fewer reviews.
Become an active presence on Google and respond to reviews. Your customers will notice that your business values their input and respond with more reviews.
Make sure your business information is verified. Only verified businesses can respond to reviews.
In the end, how you get the reviews is up to you, but it is definitely in your best interest to follow the specific website's guidelines.
The best way to get reviews is to have such an amazing product or service that your customers feel compelled to tell others about it. The people most likely to leave reviews are often those on the extreme ends, both worst experience and best experience. You will hopefully just bring in the best.
Respond to the reviews
Sometimes called, Online Reputation Management, it is good practice to address your reviewers, good and bad. If a customer writes a scathing review, you have the opportunity to tell your side of the story and try to remedy the experience. On the flip side, if a customer loves your company, you can thank them personally. It will show other visitors that you care about what people say.
Most importantly, stay professional at all times even when someone else isn't. Everyone will be able to see your response, and your behavior can turn some toward or away from your business. Avoid the temptation to stoop to a low level.
A completely different approach
If you are completely confident in what your company has to offer and just altogether hate reviews and the whole idea of it, take a page from the book of a restaurant here in California called, Botto Bistro. This Italian restaurant LOATHES everything that Yelp stands for and hates what it does to local businesses. They set out to become the worst restaurant on Yelp and continue to offer 50% off any pizza if you leave a one-star review. Here is a screenshot from their site.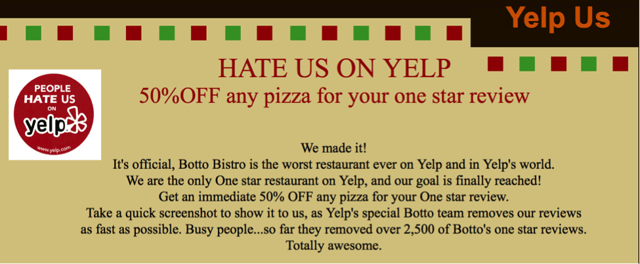 According to their site, Yelp has removed over 2,500 of Botto's one star reviews so far! They see each review as another slap in face to Yelp. They even received an email from Yelp asking them to stop. As they put it, "It takes great chefs, great talent, and great experience to get a Michelin star, but to get a one star score on Yelp, it takes way more." Their rating is constantly fluctuating because all the review removals and now stands at 2.5 stars as of today. If you check out their Yelp Page, you will see the hilariously sarcastic posts, such as these.


This approach seems to have paid off for Botto Bisto. They received write-ups on tons of massive news websites like Huffington Post, USA Today, TIME, SF Weekly, and more. Their war continues to this day, but this approach likely won't work for most businesses. Botto's knows it has awesome food and doesn't need reviews to tell it so. However, for many small businesses, reviews help them get discovered.
Final Thoughts
Reviews can be a nuisance for some or a source of pride for others. Either way, the data seems to support the notion that reviews make a difference. More and more people are checking reviews before deciding to visit or purchase from a business. A lot of sites, like Yelp, don't allow you to delete your business listing, so you either embrace or ignore it. Regardless, customers are going to leave reviews.
It is really up to your business whether or not to focus on reviews or not. Google states that it helps your website rank, and a high ranking on Yelp can help you be found by more people. There doesn't seem to be any real downside. It all depends on your opinion of review sites. Big risks can lead to big rewards, like in Botto's case, but ignoring legitimate bad reviews could be driving away potential customers. Weigh the pros and cons to see whether it is worth your time to pursue reviews.