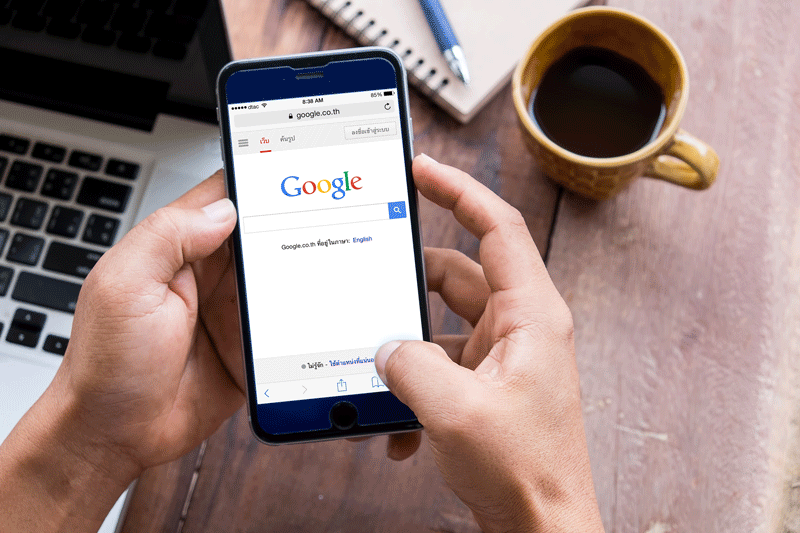 If you have done any research on local search engine optimization (SEO), you have probably come across the term NAP, which stands for Name, Address, and Phone Number. You might be wondering why this is important, or you might think that this is so obvious that it doesn't need to talked about. Regardless of whether you think it is important or not, NAP consistency is a crucial part of local SEO and can help your business rank higher in search results.
Small businesses can really take advantage of local SEO and use it show up in Google's "3-pack" in organic search results. This should be important for any business owner because this section shows up at the very top of the page and is often the first thing people see. Shown below is an example of the "3-pack" (also called "snack pack") for a basic search for pizza in San Francisco.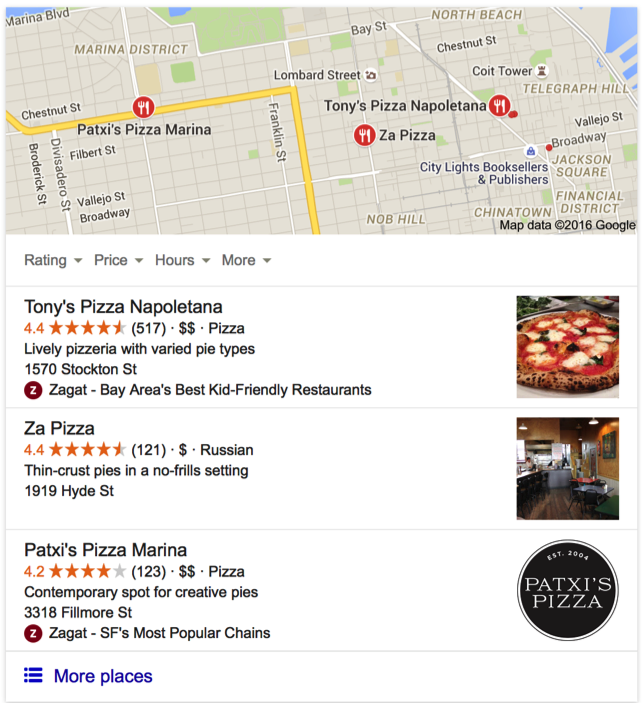 Your ability to rank here will depend on many different factors, and it will be more difficult if you are located in a large city like SF. However, you will have little chance of ranking if you do not have any NAP consistency. Moz created an awesome pie chart detailing the overall ranking factors for local search (shown below), which shows all the different things that influence your website rank such as keywords, reviews, and social media. NAP related factors account for just about 24%!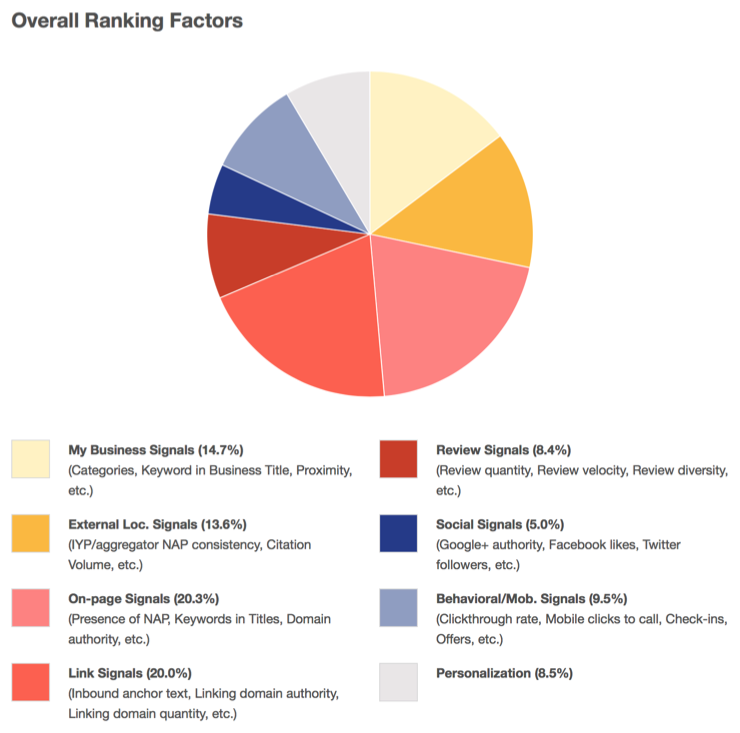 In our pizza example, you can see how each address is listed in the results along with the business name, and if you click any of them, you will see the phone number. Even if you can't make it into the top 3, you still have the opportunity to be seen if someone clicks on the "more places" button. Here are some important things to pay attention to when working on your NAP.
Name
Your business name is probably the most important factor to consider because this is your brand and how people know you. If nobody knows what your business is called, how will they know what to search for? Do a Google search for your business and look at the results. Do you notice any inconsistencies? Pay attention to the following:
Spelling: Look for big mistakes but also notice subtle ones. If your name is in a language other than English, be very vigilant. In our pizza group, if "Tony's Pizza Napoletana" was misspelled "Tony's Pizza Napoletano", it might not rank number one since that would be different than the name on the website and different than the name on review sites and news stories.
Punctuation: If your name has any punctuation, make sure it is always the same. It might not seem like there is a big difference between "Tony's" and "Tonys" but search engines can't distinguish variations the same way people can.
Nicknames: Don't shorten or use any nicknames for your business online because this might be seen as a completely different and separate business. Most people probably don't refer to "Tony's Pizza Napoletana" by its full name, but if the owner tried to just go by "Tony's", it would be much harder to rank for such a vague term.
The way you spell your business name on your website and on your store signs should be how it is shown online. If you have changed your name recently or altered it somehow, you definitely need to start working to clean up any mistakes.
Address
Your business address is very important for ranking in the "snack pack" because Google prioritizes businesses by distance to the searcher. Just last week, Google released a new article called "Improve your local ranking on Google", which states that the distance is a major factor.
This is unfortunate for service-area businesses that don't have a brick-and-mortar location, such as plumbers, painters, or other industries that travel to their customers. However, if you set up a Google My Business account, you have the option to set service areas based on zip codes or a surrounding area. For physical businesses, remember these things:
Punctuation: This is most important for addresses because there are so many variations. Google seems to never include periods after street or avenues (St vs St.), so you shouldn't include that on your website.

Consistency is always key.
Abbreviations: As you can see in the pizza example, the street is always abbreviated (St vs. Street, or Blvd vs. Boulevard). Keep this in mind when writing your address anywhere. Although, abbreviations mean the same thing, they look different.
Phone Number
With the massive prevalence of smart phones and mobile searches, your business phone number is more important than ever because customers can click to call. If the number they click is incorrect, you might have lost a customer forever. If your business has been around for a long time, you might have many different numbers floating out there. It is best to consolidate everything to one. On Moz's local ranking research, many of the top negative ranking factors relate to phone numbers. Just in the top 8 alone, phone number problems take up 3 spots! (GMB stand for Google My Business).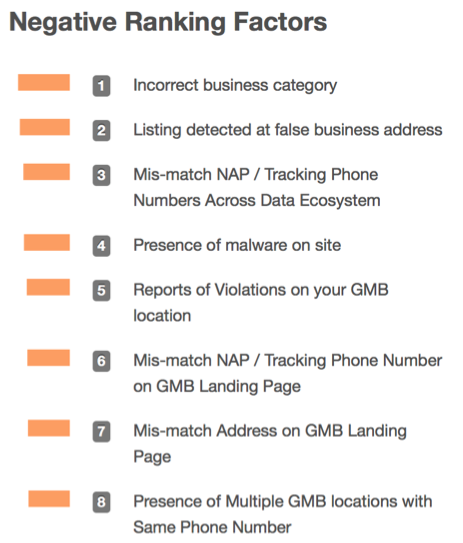 Area code: To rank in local search, you need a local number. You should not use an 800 number or a call-forwarding number.
Unique number: If your business has multiple locations, each location should have its own phone number. In our pizza example, "Patxi's" is a chain restaurant, but this location has a local "415" area code number.
How do you know if you have any inconsistency?
The starting place for any NAP audit should be a Google search, but there are other tools out there to help you find inconsistencies faster and easier. Here are some free online websites to try:
Yext: You can do a listings scan to see how your business is represented on many popular directories and search engines.
Moz local: Another free service that checks the major aggregators.
NapTune: Requires more information than the others and shows the major sites and some small citation sites.
Once you know of any problems, you can start cleaning them up. You can do this manually, or you can hire a service to take care of it for you. There are pros and cons to both, depending on what you are looking for. Either way, it is important for your business because often times, the higher your website ranks, the higher the probability that more people visit your site compared to your competitors. Don't take any chances when it comes to the success of your business.