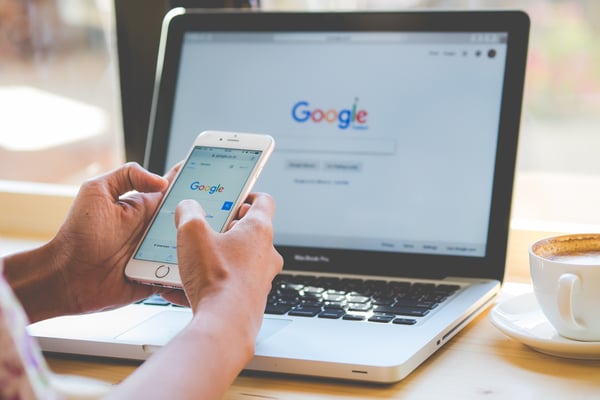 If you're not a stranger to this blog, I'm sure you're aware that we here at Rhino talk a lot about Search Engine Optimization (SEO), and we like to think that we've become something of experts on the topic. It's really not possible to get too far into a discussion of SEO without the conversation turning to Google. With Google maintaining more than 90% of all internet searches (when you include its 'subsidiaries', Google Maps, Google Image Search, and YouTube), it's fairly obvious that any talk of SEO really equates to looking at how visible websites are in Google searches.
So, it's not surprising that when the folks out in Mountain View make changes to the way their search engine works, website owners stop and pay attention. This is a fairly regular occurrence, with Google tweaking their algorithm several times a year. The most recent update became visible early in August of this year, and you may have seen some of the buzz about it in the search community.
What happened in August?
As updates happen regularly, Google made some recent changes to their search algorithm. This time, the changes were rolled out without a lot of fanfare, in contrast to some changes that have been announced in advance. In fact, this time, it was the members of the search community themselves who observed the changes (as they had in March of this year), beginning on the morning of August 1, 2018. As this piece on Search Engine Roundtable shows, it was already a hot topic of discussion fairly early that day.
Yes, that article, following up on earlier observations and conversations, was posted at 7:31 AM on the morning that changes were first noticed. If you're somewhat new to SEO, this should give you some idea of just how seriously these changes are taken amongst website owners. Further, the detail of the statistics that were being discussed even at that early hour will show the level of analysis that successful webmasters apply to studying their search results. A couple of hours later, Google confirmed, through its @searchliason twitter account, what the eagle-eyed search community had already figured out: that it had rolled out another change to its search algorithm.
So, just what changed?
Well, there's the catch. Although Google confirmed the change, they didn't really provide us with any detail on what they did, unlike some earlier modifications, including the well-known "Penguin" update and the much-feared "Mobilegeddon" update of 2015. Instead, the aforementioned Twitter post seemed to downplay this update, choosing to lump it in with other "daily updates", though they did describe it with the term "broad core algorithm update". They seemed to be suggesting more of a minor tweak than a major upheaval. But not all webmasters agreed, with some observing their traffic dropping by as much as 30% even on that morning.
What do we know about this August update?
The first thing we can say that we know about this update is that it's definitely not a minor tweak. While those go on once or more a day, mostly unnoticed, this change impacted some sites seriously, with some reporting decreases in their traffic and search ranking, while others reported increases.
The update appears to be focused on improving user experience by providing results that are more contextual-based, and less based in simple keywords.
Unlike other updates, Google hasn't provided a "fix" for websites that seem to be impacted negatively by this one.
What? No fix? Where does that leave us?
In order to address this question properly, we really need to understand that from Google's perspective, there's not exactly anything to fix, because there's not exactly anything broken. Unlike past updates, which specifically rewarded or penalized websites for employing certain methods, Google's Danny Sullivan told us through a tweet that this is a different case. There was a similar conversation regarding the previous "broad" core update, back in March of this year. Responding to complaints that Google was not being helpful to website owners, Mr. Sullivan replied thus:
"We tell lots of things to do. Improve site speed. Consider secure. Etc. But that's not what this update was about. It's broad. And respectfully, I think telling people there's no particular thing to "fix" is indeed helpful. It means, hopefully, they think more broadly…"
Who or what was really impacted by this update?
As the dust is settling, it looks like this update primarily affected the following types of sites:
Medical and health sites.
YMYL ("Your money or you life") sites.
To a lesser degree, entertainment and gaming sites.
YMYL? That sounds like a stickup!
It's not exactly that. But...it refers to sites that could have an impact that's potentially that momentous. Google themselves defines this type of site, in their own Search Quality Guidelines as a page that "could potentially impact the future happiness, health, financial stability, or safety of users". These include such sites as:
Shopping or financial transaction pages
Financial information pages
Medical information pages
Legal information pages
News articles or public/official information pages important for having an informed citizenry
It seems that Google's intention was likely to improve the quality of sites which distribute this sort of crucial information, and may have demoted those with low E-A-T (Expertise, Authoritativeness, and Trustworthiness).
So what's a website owner to do now?
That's a good question, and it's one that many webmasters and SEO professionals seem to feel that Google didn't answer adequately. I however, feel that they're taking too shallow of an approach to the question, and feel that Danny Sullivan's answer is a pointer in the right direction. Though he didn't offer a quick fix, he did offer the following, which appears to have irked quite a few in the search community:
"Want to do better with a broad change? Have great content. Yeah, the same boring answer. But if you want a better idea of what we consider great content, read our raters guidelines. That's like almost 200 pages of things to consider: https://static.googleusercontent.com/media/www.google.com"
Boring? Perhaps. But to this writer, the message was clear. Google didn't just make a quick change, so webmasters couldn't be offered a quick fix. They're attempting to make it easier for search users to find trustworthy, authoritative information, and are encouraging us all to employ higher quality content.
Providing great content is not as simple of a task as changing the format of your pages or changing the way you link to other sites, as evidenced by the lengthy document that Mr. Sullivan referenced above. If you're ready to delve into those guidelines, go for it. But if the project seems overwhelming, why not call upon us here at Rhino? We've been focusing on SEO for years, and would be happy to discuss how we can help you improve the quality of your content, and strategize your approach.