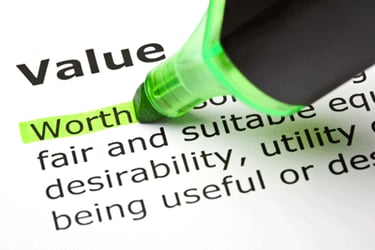 I spend a vast majority of my day online, and it's been that way for quite a while. When I'm at work, I'm communicating with managers and coworkers online, and using the internet to research the extremely informative and fascinating blog articles you see here. And when I'm off the clock, I often surf the web for my own enjoyment, or interact with friends and family via social media. And in all that time I've spent on the World Wide Web, I've encountered my fair share of dud websites.
The number of sins committed by bad websites are many – poor layout, garish colors, difficult navigation, broken graphics – the list goes on and on. If there's ever a contest for designing the worst website, I think I can give it a shot. But as a business owner or marketing professional, you don't want an ugly website. You want a website that your visitors are happy to find, and would possibly visit again. Basically, you need to create value for the visitor.
How can you accomplish that? We've got some ideas…
Content is king
This is a popular saying in the online world, and for good reason. We're all running business websites here, so we're not interested in giving away our products/services. So what can we give to our customers to provide value? Content.
By providing a blog that is informative, interesting, well-written and updated regularly, you will give visitors an excellent reason to visit your site – even if they don't want to buy anything. If your blog is strong enough, people may begin to subscribe to it, just so they can read your next article. This ensures they'll continue to visit your site, and hopefully they'll eventually be curious about your product offerings.
Content isn't just for loyal subscribers
However, you don't need anyone to subscribe to your blog. It's nice to have regular readers, but a new visitor could just as easily become a customer. To ensure this, it's important that all blog articles can stand on their own. Basically, if I come to your website and read one blog article, I should be able to get the answer to my question without reading anything else.
Provide all of the answers a customer could need
Your website doesn't have a limit to the amount of information it can provide, so provide it all! Ensure your visitors know everything they could possibly need to know about your company. I.e. where you're located, how long you've been in business, what variety of products/services you offer, and so on. Of course, you can't anticipate every question, so also be sure to give your visitors a way of contacting you. And there had better be someone available to respond.
Business should be only a small portion of the site
One thing we stress here at Rhino is to keep the focus off of purchases/business dealings/etc. Basically, we encourage you to provide a strong customer experience that doesn't make sales the central theme. Instead of selling the customer on your products/services, we believe you should sell them on your company and your expertise.
In keeping with that theme, we advise clients to keep pricing and purchases in only one small part of your site. It should definitely be present, but not the main focus. Instead, keep innovating and finding ways to give your customers a better website experience. Visitors appreciate being thought of, and happy visitors can quickly become loyal customers.