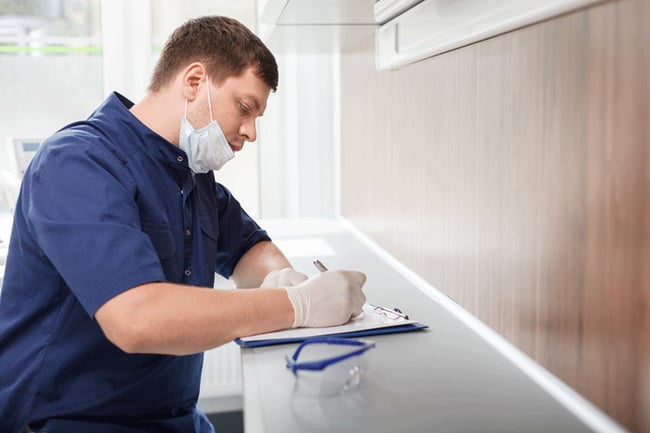 Here at Rhino, as you've probably noticed, we're big fans of inbound marketing. We prefer it to old school, outbound marketing, and we think it can be used effectively for just about any type of business. It doesn't really matter that much what your product or service is. The method can be applied to any field. Healthcare providers are no exception, and, in particular, we've had some success setting up inbound marketing programs for dentists.
Much of the inbound marketing process is centered around providing valuable content to prospective customers, so much so that it's often called "content marketing". It's the content you provide that gets potential clients to click through to your website and keeps them coming back for more. Initially, it's probably an offer of a free eBook or whitepaper that attracts first time visitors to your website. Later on, it's going to be a constant stream of blog posts that gets people back again.
Blogging works for dentists too. But of course, it's not just a matter of creating a blog, and posting a bunch of words every few days. As we said, the content needs to be engaging and valuable in order to accomplish your goal. Let's look at a few things to consider when you're trying to create great blog content.
Keywords
You can put together some really high quality content for your blog, but it won't do you any good unless people can find it. The best way to accomplish this is by utilizing keywords that people will be searching for when they look for information that's relevant to your practice. For a dentist, some of those keywords might be "toothache" or "abscess", both of which are words that someone might enter into a search engine when they're in need of help. For example, using those keywords in blog articles titled "3 reasons you have a throbbing toothache", or "What is gum abscess?" will help you rank high in the search results, and make it more likely that people will click through to your site. But don't overload your content or meta tags with gratuitous use of keywords, sometimes called "keyword stuffing". Google will recognize this, and it may actually hurt your search engine rankings or even result in you being banned from search results.
Just the FAQs, ma'am
A good source of inspiration for blog content are some of the "frequently asked questions" (FAQs) that you hear all the time as a dentist. Questions such as "How often should I brush?", "What's the best type of toothbrush?", or "Is it better to floss first or brush first?" are asked often. So it's reasonable to expect that people will be searching for those answers as well. Well written blogs addressing these common queries will help people find your site. Perhaps even more importantly, if your articles are truly informative, it will help establish you as a trusted authority in your field.
See what else is out there
We are not encouraging you to plagiarize the work of other professionals by any means. But it can't hurt to look at bulletin boards, discussion groups, and even blogs written by other dentists to get an idea of what other people are talking about. Don't steal someone else's writing. But it's perfectly acceptable to find a topic out there that you could cover more thoroughly or clearly, and creating some really superior blog content on the subject.