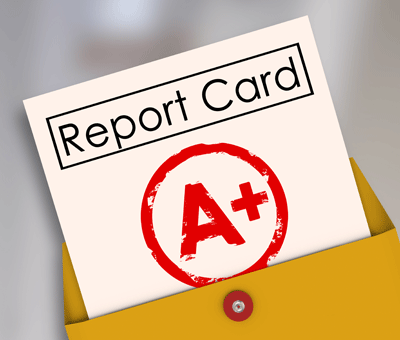 A business website has many functions and features, and there are many qualities it should have. It should be nice to look at, but not too busy. It should represent your company well. But in the end, your website has one job and one job only: get sales.
Your website has to follow the advice of the character Blake from the classic movie, Glengarry Glen Ross – ABC: Always Be Closing (note: link contains adult language). Everything about your site should exist to drive sales. If you operate that way, your site can be your finest sales tool; if you don't, you're wasting a fantastic opportunity to attract and convert leads.
So how is your website doing? Let's go over how you should grade it by asking these seven questions:
Do you have a blog?
A blog is an absolutely must for successful inbound marketing. Your blog should be updated regularly (at least 2-3 times per week) and needs to feature strong, well-written content. You also need to understand what keywords are used most often for internet searches related to your market and product/service, and then feature those keywords prominently in your blog articles.
Is your site getting traffic?
You can't get leads if you don't get traffic, and the sad truth is that the vast majority of your traffic will never make a purchase from you. It's just a reality of inbound marketing. Therefore, you need to get the most traffic possible, because 5 percent of 1,000 will always be more than 5 percent of 100.
Are you doing anything with that traffic?
Just getting lots of visitors isn't enough – you have to do something with them. You should be encouraging your visitors to become leads using different methods. Ask them to get on a mailing list, subscribe to your blog, or entice them with content offers. Speaking of which…
Do you have content offers?
Content offers are another integral part of a successful sales website. Content offers are more in-depth than blog articles, and often take other forms such as eBooks or white papers. The idea is to offer content so enticing, a visitor would be willing to part with contact information in exchange for it. That is an excellent way to generate a lead.
Are you converting your leads?
It's not just enough to get the lead; a lead doesn't make you any money until you turn it into a sale. Are the leads from your site being stored anywhere? Are you keeping track of these leads and following up? This is what's called lead nurturing, and it's crucial if you want to make any money. (A tool like HubSpot's contact database can be of major assistance for this issue)
Is your site easy on the eyes?
As we discussed in the intro, your site has to be simple and straightforward. Don't be inclined to make your site too fancy just because you can: flash videos and snazzy graphics are nice, but you don't want to overwhelm or annoy a visitor. Think of your website as your online storefront.
Is your site effective?
Any visitor that comes to your site needs to be able to do two things easily: 1. Get in contact with you and 2. Become a lead. Sometimes, these functions are combined in a single feature – for example, if you have a form entitled "Get in Touch," and the visitor willingly provides contact info, they've unknowingly become a lead.
Just be sure your visitors are never confused about how to get in touch; again, your site is a sales tool, and to complete sales, you need to get in contact with your visitors.
Verdict
If you have most of the features described above, you're doing a great job with your website. If not, look at the list carefully and determine what you need to work on. Remember, your site's main purpose is to make sales – everything about it should always come back to that.