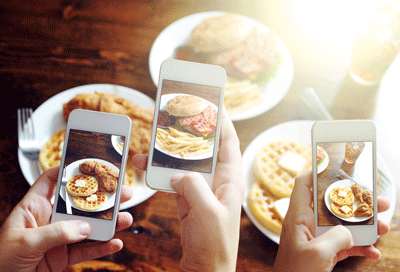 If I ask you to think of social media, most of you are going to conjure up images of two sites: Facebook or Twitter. Since these are the two biggest social media platforms in the world (and two of the oldest), that wouldn't be a surprise. But what if I told you that it's actually Instagram you should be most concerned with at this point?
Snapchat is the newest frontier when it comes to social media, but many businesses are still having trouble figuring out how to leverage it. (Sidenote: recording artist DJ Khaled is absolutely crushing it on Snapchat). But Instagram offers no such mystery.
As an image-dominant platform, Instagram suffers from the same problems as Pinterest; companies are intimidated by the need for pictures. But if you can get past your image-phobia, there is great untapped potential within Instagram. Especially for B2C marketers.
The visual medium should be embraced, not shunned
I don't know a better way to put this, but our society is getting tired of words. The internet has made us lazy, and many people would rather get their news from a YouTube Vlog or infographic rather than a traditional news article. Why is Snapchat so popular? Because it allows us to take endless photographs, especially of ourselves.
If you're paying attention, this isn't a trend that appears to be dying down. If anything, it's ramping up. So it's time to stop being so afraid of images and embrace it. Take pictures around the office regularly, especially if it seems like a mundane or inconsequential photo. Social media is supposed to be kind of fun, and your followers would much rather see an image of your desk's decorations instead of another sales pitch.
It's a tremendous venue for participation
We make it mandatory to respond to blog or social media comments here. Why? Because it engages our readers, and an engaged reader is more likely to come back. And nothing drives engagement like social media.
By nature, social media is a very collaborative platform. So collaborate! Ask your followers to post a photo of themselves using one of your products or wearing company swag, and then have them tag you in the post. Or, post a photo along with a question to drive engagement. Perhaps a photo of the business office and asking what color the walls should be painted? Remember, this doesn't have to be serious. It's social media, not a congressional hearing. The more engaged your followers are, the more likely they are to pay attention. Which will come in handy when you market to them with your Instagram account.
Speaking of which…
So we've discussed how you should participate on Instagram and driving engagement, but what about flat-out marketing to our potential customers? How is that accomplished on Instagram?
The key to inbound marketing is to direct the customer to your website, so the goal should be the same here. You should create landing pages specifically for your Instagram followers and occasionally post links (with a photo) on Instagram. We want specific landing pages so we can understand the response we get from Instagram, and it also allows us to create specially tailored messages for this audience. If you've done a good job with engagement and regular posting, you should have a sizeable audience for these landing pages. Study the results and adjust accordingly.