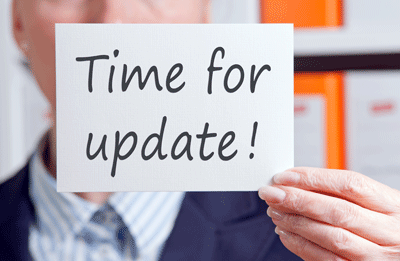 You've decided to jump aboard the inbound marketing bandwagon; we're happy to hear it. Here at Rhino, we used to say that inbound marketing was the future of marketing. But forget the future – inbound marketing has already become the most effective marketing tactic for the present. It's dynamic, adaptable, affordable and successful. What took you so long to join the party?
Regardless, we're glad you've made such a smart decision. So now the question you might be asking yourself is: where do I begin? Content is the driving force behind a successful inbound marketing strategy, but you need to be sure you're ready to feature all that great content. So the best starting point is updating your website.
If you already have a business website (which I hope you do), it might not be an integral part of your business strategy right now. But that's going to change immediately. With inbound marketing, you website becomes a focal point for all of your marketing efforts.
Why does my website matter so much?
For most small businesses, their website currently serves little purpose. Most people who visit your site are probably just looking for business hours and maybe a bit of product/service information.
But with inbound marketing, your website becomes your most important sales tool. Because with inbound marketing, your primary arena for lead generation is the digital space. Your content is the bait – you produce informative, keyword-laden blogs that will end up ranking highly in Google search results. That content brings the visitors to your website, then once they've arrived, your website successfully turns them into a lead.
How is that accomplished? With even more content. You will produce "content offers," which will be more in-depth than your blog articles and usually take a different form (such as an eBook or white paper). In exchange for these content offers, visitors will have to provide you with contact information. Once they agree to that trade, you've got all you need to start trying to sell to them; you've just gained a lead.
So what do I do with my website?
First things first: if you don't have anyone with web design experience in house, you'll need to hire someone. Alternatively, if you contract an inbound marketing firm, they often have designers they work with who can get the job done.
Your website needs to prioritize effectiveness over attractiveness. Yes, your website should look modern and be pleasing to the eye, but what's most important is that it functions as a sales tool. Ensure that navigation around the site is easy – a permanent navigation bar at the top of every page is a great way to accomplish this. Also, be sure that it loads quickly. Few things irritate a site visitor more than a slow or unresponsive website, and an irritated visitor isn't going to stick around.
Another important tip: the visitor should never be confused about how to get in contact with you. Make it abundantly clear how they can get in touch, and do everything you can to make it easy for them to become a lead. One great way to do that is by including links to your content offers at the end of every blog article. Since a visitor is likely to come to your site because of a blog article, you want to immediately present an opportunity to become a lead.
These are just some of the excellent ways you can turn your website into a phenomenal lead generator. If you want to know more, take a look at our eBook: "10 Steps to Turn Your Website into a Lead Generating Machine".