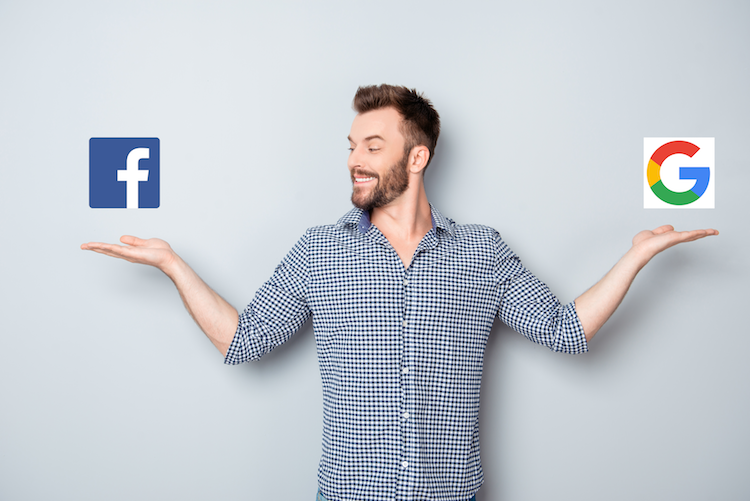 As a leading digital marketing agency, we at Rhino Digital Media are often asked about the best way for a local business to spend advertising dollars. In 2018, we're far enough along into the digital age that most companies understand the importance of maintaining an online marketing presence, towards their goal of attracting, converting, and retaining a customer base. Just about everyone is aware that Google and Facebook are major players in this arena, but many can't decide which of those is a better use of their marketing budget.
Let's take a look at these two powerful channels: Google AdWords and Facebook ads, to see which provides more value to you as a business owner. But first, I'd like to talk about each of these platforms, so we're clear about what they are and how they work. Then we can examine the pros and cons of each, and try to determine which will give you the results you're looking for.

What is it?
AdWords is Google's online advertising service. It delivers brief snippets of advertising content to users of Google's web search, based on the subject matter that they're searching for. It uses what is typically known as pay-per-click (PPC) advertising, a business model in which the advertiser pays based upon the number of times that users click on the link in their ads.
How does it work?
Google AdWords is generally referred to as "paid search". It shows your content to users, based on keywords (words or phrases that people include in their search queries). Your ads will appear at the top of search results on Google's own page, or on pages on other websites or mobile apps. These ads may be text-based, or they may include other media, like photos or even YouTube videos. You can target local customers only, if that fits your business model, as well as reaching out to specific regions or countries. The pay-per-click model means that your cost is based on the number of times that someone actually clicks through to your website.
Facebook users aren't looking for anything in particular, and they probably aren't there to shop. They do, however, reveal a lot of information about about who they are and what they're interested in during their time on Facebook. You can target your audience based on a variety of demographic parameters, as well as their interests and behaviors.

Pros
Vast audience - At this point in time, Google basically owns web search, with approximately 70% of the market.
Immediate results - You can expect to start seeing traffic almost from the moment you post your ad on Google AdWords, as you'll be in people's search results and they may click through as soon as they see your ad.
Highly customizable - You can target geographical areas, days and times to deliver your ads, and on what websites your ads will appear.
Excellent Analytics - make it easy to track the results of your ad campaign.
Easy to reach your target audience - Since your ad will be seen by people who are actively searching for what you're selling, there is a high likelihood that you can convert them into closed sales.
Cons
Limited ad space - Search ads are confined to three lines of text, which may or may not be enough to deliver your message.
PPC may be costly - Not all clicks are created equal, and, depending upon the market you're in, you may have to pay a hefty price to get your ad to show up on top of your competitors' ads.
You can waste your advertising budget - If your ad campaign isn't set up optimally, you may end up targeting an audience which isn't interested in what you're offering, and sometimes at a premium price.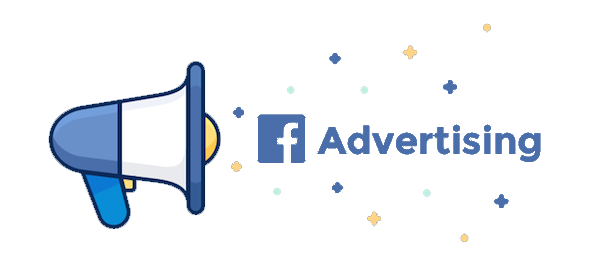 What is it?
Unlike Adwords, Facebook ads target users within their network, the largest social network on the planet by far. Users aren't there because they're searching for something specific. Rather, they're scrolling through their feed of updates from their contacts, during which time they'll see your information in one of a number of places.
How does it work?
Facebook users aren't looking for anything in particular, and they probably aren't there to shop. They do, however, reveal a lot of information about about who they are and what they're interested in during their time on Facebook. You can target your audience based on a variety of demographic parameters, as well as their interests and behaviors.

Pros
Also a huge audience - As Google is in the search engine realm, Facebook is a titan of the social media world, boasting over 2 billion monthly active users. To put things in context, that number represents more than one quarter of the population of planet earth.
Immediate traffic - You can expect to start seeing clicks as soon as your ads appear in users' feeds.
Very detailed customizing options - including parameters like age, gender, jobs, income brackets, locations, interests, and of course, what they "like" on Facebook.
Easily trackable - Facebook provides you with the analytics to easily track and manage the results that your ad is producing.
Catches potential customers early in the buyer's journey - perhaps even before they're aware of their need.
Cons
Lacks time delivery options - Unlike Google AdWords, Facebook doesn't offer the option of choosing on what times or days of the week during which to deliver your ad.
Not really valuable for B2B companies - Facebook's advertising model is focused on targeting individuals, so if you're marketing to companies, you can't expect to see the kind of results you'd get on AdWords.
You may be too early - Facebook ads will reach your audience at an early stage in the buying process, maybe even so early that you won't attain the conversion rate that you're looking for.
So, which is the better platform?
Well, it's not quite that simple. While Google AdWords and Facebook Ads appear to be similar, as they're both forms of online advertising, the similarity really stops there. In actuality, they offer different approaches, each of which has its value. My advice is to try not to see these as competitive services, but rather as complementary tools to attain your goals. To recap, let's compare the benefits of each:
Cost

There's no point in talking about advertising without at least touching on the subject of cost. It's all about what return you can expect on your advertising dollars, right? I'm not going to give specific prices, as these vary depending on a number of parameters, and are always changing. However, for the purposes of this discussion, suffice it to say that the PPC cost of AdWords has increased since its earliest days, especially in certain highly competitive industries. Generally speaking, you can expect a lower cost per click on Facebook than through AdWords.
Your Target Audience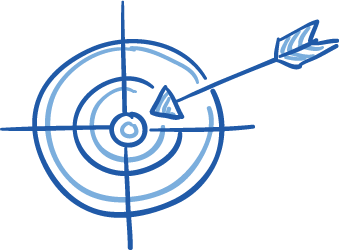 While Facebook Ads have begun to include some job-related parameters in their options, it remains a social network. For the most part, people aren't looking at Facebook for work. If you're selling a B2B product or service, you'll do better spending your money on AdWords, where you can expect to be seen by business owners or buyers who are actively looking for a solution. B2C companies can expect to benefit more from harnessing the power of "paid social" in pinpointed precisely the type of buyer who has a need for your offerings.
Immediacy of Sales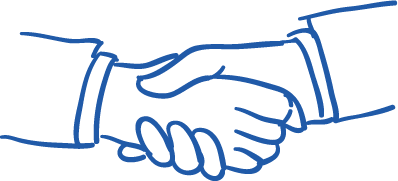 In this category, Google AdWords wins, hands-down. A well-designed and well-placed ad will turn up right in the line of vision of someone who has a need that you're able to fulfill. At that point, you're just a click away from the opportunity to close a sale. Facebook ads, in contrast, will tend to catch your potential customers at an early stage of the sales process, perhaps long before they're actually ready to buy. That's not necessarily a bad thing though, as I'll explain in the next paragraph.
Brand Identity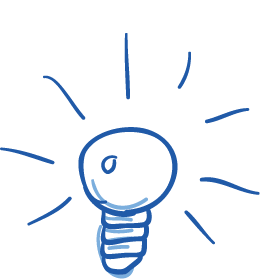 While a Google ad may do a great job of catching someone who's ready to buy, Facebook excels in catching those who are not that far along in the buyer's journey. Seeing your brand name, pictures of your products (if that's applicable), and perhaps some meaningful content on subjects relevant to your target audience goes a long way toward building of brand recognition and awareness. And don't discount the immense benefits that are built-in to social networking: those likes, comments, and hopefully shares will help to spread the word, so that when someone becomes a customer, they'll remember your company.
In conclusion, a viable plan might be to devote some of your advertising budget to each of these platforms, watch the analytics, and make adjustments as appropriate. To learn more about the best way to promote your offerings online, give a call to the digital marketing experts at Rhino for a free consultation.