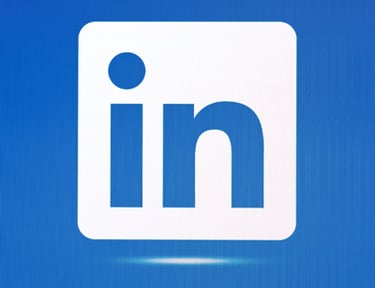 If you've been following our blog, you know that we here at Rhino are fans of LinkedIn, and we've said before that it's the best social network for business-related networking. It's probably not the best place to see photos of what your old school chums had for lunch today, nor will you get up-to-the-minute flash bulletins about the hottest celebrity gossip. However, almost every professional has a LinkedIn profile by now, and it's a great place to find the people who are responsible for procuring whatever it is that you sell.
As you're prospecting on LinkedIn, it doesn't take too long to notice one thing that it has in common with other social networks: paid advertising. Starting with the homepage feed, you'll quickly be served ads as well as "sponsored content". So you may be wondering whether LinkedIn paid advertising is worth your while. Let's look at a few points to consider.
First off, as I mentioned, LinkedIn is not the kind of place where people reconnect with old friends or stay in touch with family members. People primarily use LinkedIn for business networking and job search. This certainly works to your advantage. Unlike Facebook, where the ads are nothing but a distraction from the all-important newsfeed, it's likely that LinkedIn users are actually looking to buy what you're selling. So if you're a B2B marketer, you've probably come to the right place.
One way in which LinkedIn differs from the other socials is that it's the only forum in which you can really target the decision-makers you need to be in touch with. It wasn't too long ago that finding the names and contact information of the right executives or buyers was quite a challenge. Receptionists at many companies are generally expected to keep that sort of information well-guarded. Lists of marketing contacts have long been available to purchase, but that was always a costly option, and you never knew whether you were getting outdated names and info.
But on LinkedIn, the very same people who used to hide from you make themselves visible. And, they're almost always in "business mode" when they're on the sight (that is to say, they're not looking at their cousin's baby pictures, or posting cat memes).
Keep in mind that there are two types of paid advertising on LinkedIn: ads and "sponsored content". Sponsored content is simply content you have already shared in the network, which you can pay to promote. If you've been posting content to LinkedIn, you'll have a fair number of posts you can promote. As you know, we're big advocates of content based marketing, and like the approach of providing some quality information and attracting attention to it. Ads may also be beneficial, since they can potentially reach people who aren't necessarily looking for your content.
Another great value in LinkedIn paid advertising is the level of flexibility with regard to who you can target with your ads. You can select your audience based on a number of demographic factors, including location, company, and job title. LinkedIn also offers great flexibility in structuring your advertising budget. There are options available costing as little as $10 a day, and you can pay per click or by number of impressions. Once you've reached the limit of your budget, the campaign will halt until you start it up again, so there's no risk of runaway costs.
Of course, as with everything, your mileage may vary, and we recommend starting with a small, well-targeted campaign until you see what kind of results you get. But if you're marketing to business buyers, that is "professional customers", LinkedIn paid advertising is certainly an avenue that you ought to explore.