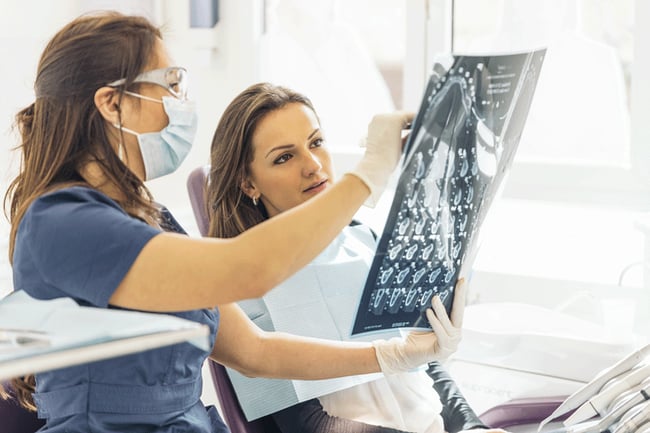 Providing excellent care to your patients is an essential part of a successful dental practice. However, being an amazing dentist does not guarantee success. Potential clients must be able to find out information about you and your practice before they can become current patients. Many people will use an online search to find out where you are located, what services you offer, and who among their friends currently use you as their dentist. In order to be found online, you need to create a presence through online marketing. There are three tips dentists should follow to get started with online marketing.
Make a plan!
Online marketing for dentists is like marketing for any other business; you must have a plan in order for it to pay off. What is your goal for marketing online? Do you want to attract new customers and stay connected to current patients? Do you need to build your reputation in the community? Do you want to establish yourself as an expert in your industry? You may want to do all of those things and more through marketing and advertising. There are different types of online marketing depending on your goals. For example, using social media is a way to attract new customers and stay connected with current patients. Blogging is a strategy that can help establish you as an expert in the industry. If you are clear on your goals, it will help you focus your efforts on the activities that will produce the desired results.
In addition to being clear on your goals, you need to decide how much time, effort, and money you want to spend on growing your practice. If you are just starting out and have a small client base, you may have a lot of time available but little money to spend on marketing. In that situation, it makes sense to do some of the marketing tasks yourself. However, if you have an established client base that prevents you from spending much time on marketing, it may be worth the money to hire a marketing company.
Finally, you need a way to measure the results to determine if your time, effort, and money are being well spent. The measure can be something simple such as asking new clients how they found you. You can also use more sophisticated measurements for online traffic and engagement such as google analytics for your website and page insights for Facebook. Keep in mind that online marketing is a long term strategy.
Give something away.
One way to attract new customers is to offer them something for free. Quality content is a great way to draw traffic to your website and establish credibility in the industry. For example, there is a wide variety of toothpaste options available to consumers. As a dentist, you can provide guidance in choosing the best type of toothpaste based on specific needs such as tooth sensitivity or plaque build-up. If you provide quality content on a consistent basis, it will increase traffic too and engagement with your online platforms. Blogging and posting on social media are two ways to provide content to current and prospective patients. Another option is to provide a free consultation or service to anyone who subscribes to your blog or mailing list.
Establish a presence on social media.
More than 70% of the adult population in the United States has some type of social media profile. Creating a presence on social media is an essential part of reaching potential clients with an online marketing strategy. People can search on social media platforms, such as Facebook, and find out which dentists are used by their friends and loved ones. In addition, patients can leave reviews about their experience on social media. If you are actively engaged in social media, you can interact with more potential patients and respond to both good and bad reviews left by current patients.
Using these marketing strategies can have a tremendous impact on the growth and success of your dental practice. You can hire a marketing firm to take care of all aspects of online marketing, or do it yourself. Either way, use the time and effort required to create an online presence so you can be found by future patients.