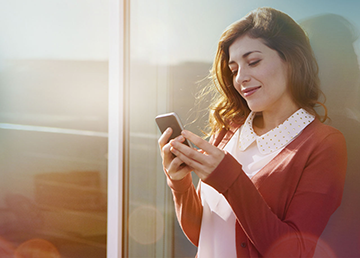 Quick question: where's your cell phone?
If I were betting, I would guess that you immediately had the answer. I would also guess that the odds are pretty good that it's within your reach. You probably just set it down after checking Facebook or your email – or you may even be reading this article on it at this very moment!
According to the Pew Research Internet Project 56% of Americans now own smartphones. More than half of all Americans now have the ability to go online at literally any time and check their email, read blog posts, or look up business information when they are in need of a product or service. That alone should let you know that if you haven't already, it's time for your business to go mobile.
Having a website that can be viewed easily on a tablet or smartphone is absolutely imperative in the digital world that we live in. More than half of the American people are using their smartphones on a regular basis to look up information that they need. Most likely your target buyers will soon begin looking for your business, or a business just like yours, on their tablet or smartphone – if they haven't already. If your website isn't mobile friendly, then you're in danger of missing out on a number of sales.
Luckily, enabling responsive design for your website can fix your problem without the hassle of creating a separate mobile website altogether. Responsive design is a web design technique that empowers websites to provide optimal viewing experience across a range of devices, from smartphones to laptops to tablets to desktops. Sites using responsive design are easily viewed on all devices, allowing for limited scrolling, zooming in and out, and panning across the page.
User experience is something that you should definitely place a big emphasis on when it comes to planning for your online presence. If a potential customer finds your site while on their smartphone or iPad, you want to ensure that they have the best experience possible. If they aren't able to find the information they need because the font is too small to read or the pages aren't displaying correctly, then they won't hesitate to leave your page and go to a competitor. In the incredibly busy world that we live in, people are impatient, overwhelmed, and not in the mood to waste their precious time. Making their experience when they visit your site as pleasant as possible will be much appreciated, and might help seal the deal on a sale.
With smartphone technology, potential customers are able to get in touch with your business easier than ever. By simply going online and doing a quick search they can find your information, visit your site, and click to call your company in minutes, all from one device. Don't miss out by not being able to provide what they need because of a lack of planning on your part.