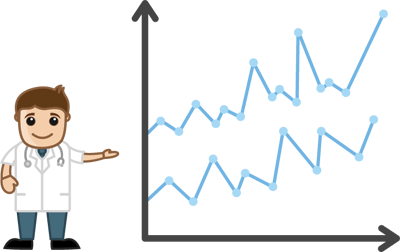 Build it, and they will come. Oh, if that were always true for dental practices.
With increasing demands to bring in patients due to decreasing insurance reimbursement rates, competing DMOs and a young generation prioritizing student debt over dentist care, it's easy to feel discouraged. However, digital marketing strategies, such as content creation for blogs and direct client email marketing, may provide the cost-effective patient-building practices that dentists of the past couldn't imagine. By taking the messages potential patients seek to them, where they look for them, you can build the patient channel your practice needs. Here's a few ways how:
A Path to Younger Patients
As mentioned above, younger adults avoid the dentists more than previous generations. Part of this is simply age, part is financial struggle. However, this generation also holds the titles for both the largest group of online comparison shopping and those seeking online medical advice. This "find the answers myself" generation, has grew up with online research and access. Now, if their gums bleed, they have a resource to find out what makes gums bleed with their smartphones at 6:30 am on the train to work. In fact, according to a 2014 study, 37 percent of those 18-32 look to self-diagnosis any health problems before seeking professional advice. If your potential new patients look for advice online, they can either get lost in a scary web of misleading information, or you can guide them to your practice.
An Online Introduction
A ranking by the National Health Interview Survey listed the top five reasons people avoid the dentist: pain, procedure/tool anxiety, cost, trying to avoid a lecture and memories of bad experience. Inbound digital marketing strategies allow you to show your personality and work to control negative assumptions.
By directly addressing the topics of dental neglect guilt, overcoming past experiences and fully explaining what patients can expect from procedures, you tackle three out of the top five reasons head on. This actually removes a barrier to care while providing the patient a positive association with your practice.
Cost Efficiency
Most dental practices, especially solo practitioners or small group practices lack the advertising budgets of large dental networks. This is another area where digital inbound marketing shines. Overall cost of an inbound marketing plan is 62% cheaper than traditional advertising. What's more important though is the ability to gain better returns from that money by specifically targeting the patients you're looking for, highlighting the procedures, skills and expertise that differentiate you and delivering the messages most need to the source they want it.