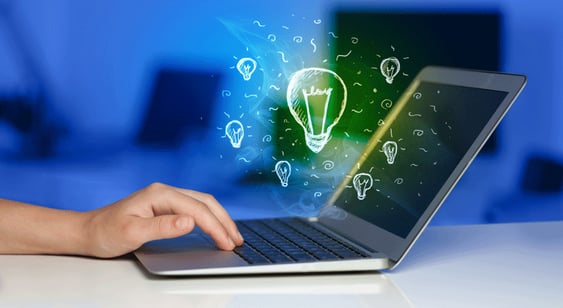 If you're running a business in the second decade of the 21st century, I don't think you need to be reminded of the importance of having a presence on the world wide web. While many of us are old enough to remember a time when everything wasn't yet connected to the internet, that's clearly no longer the case. Nowadays, everything, and I mean everything is networked, from household appliances to cameras to "smart" light bulbs. I'm digressing a bit here, but I think you get the point: if your company isn't visible on the web today, you might as well be doing business back in the last millennium.
Unless you're running a web development shop yourself, chances are that you're already planning to get some outside talent to help you with your website design. While there are some rapid development tools available that will let you throw together a clean-looking website relatively quickly, we can't really recommend those cookie-cutter solutions for a growing company that wants to stand out above their competition. You also don't need to spend too much time in blogspace or reading business literature to know that there is a growing trend for companies to outsource any work that's outside of their core competencies, leaving more time and resources for the "core" work.
Still, you've probably heard plenty of horror stories from friends and colleagues about all the possible pitfalls that could occur when you outsource your website design. Frankly, it can turn into a nightmare, if you don't choose the right group to do the work, or if you don't prepare properly before you start the project. Today, let's take a look at some of the things you should know before you hand your website design project over to a third party.
Don't (necessarily) go with the cheapest bid.
Don't get me wrong. You may have heard and read that outsourcing work like your web design will save you money, and it certainly will, in a number of ways. To begin with, you don't need to hire and train a team with diverse talents. You'll also only pay for the work that's done for you, rather than have paying salaries, benefits and more, to keep those people on your staff. But please don't go with the cheapest solution you can find. There are hordes of cut-rate web design shops vying for your business. Many of these are eager startups looking to build up their portfolio and take their own practice to the next level.
But I must specifically caution you against accepting a bid which is dramatically lower than all the other quotes you get. All through my business career, I've heard the old adage that states, "If it sounds too good to be true, it probably is". I don't want to come off as jaded or cynical, but the last thing you need when you invest in a web design project is to go with a fly-by-night design shop that goes out of business before they complete the work, or an offshore group from whom you're separated by a language barrier and time zone differences. Take the time to carefully choose a web design company that understands what you're looking for. Look at samples of their work, to make sure that it's at the level of quality that you need. Check references from other clients for whom they've done work, and make sure that the project was completed on time, within budget, and according to specification. It's possible that the cheapest quote may also be the best shop to do the work, but don't count on that. Choose based on quality over price.
Contract on a project basis, not time and materials.
One of the biggest mistakes you can make when you outsource your website design, or any technical project, for that matter, is to contract a third party on an hourly basis. The time estimate you get up front is just that: an estimate. And no matter how much you hear about the designers track record of coming in under estimate, no one is going to guarantee that. So you'll be setting yourself up for potential overruns, aspects of the project that they didn't realize were going to be so time-consuming, and revisions that you get billed for, even if the designers / developers are the ones who didn't understand what you were asking for. The way to avoid this pitfall is for you to agree to a fixed fee for the project, with a clear understanding of what's included in the list of deliverables. This leaves some extra burden on you, of course, in the planning and bidding stages. You'll need to be very clear in your specifications for the site, so that you can get an accurate quote. If you don't give detailed requirements as far as the scope of the site, how many pages you need, how much content, what other tools or platforms the site needs to interact with, and so on, you can't expect the web design shop to give you an accurate quote.
Discuss the goals of your website project.
We all want to have a website with a cutting-edge look and feel. The web evolves rapidly, and design elements that looked new only a year or so ago may seem stale and outdated today. Web pages that were on the bleeding edge a decade ago look downright antiquated by today's standards. If you don't believe me, take a look at the Wayback Machine on the Internet Archive and see what some of your favorite websites looked like at different points in the past.
But today's websites aren't just art projects, nor are they the brochureware, static sites of the early days of the web. There's much more to current websites than writing HTML code, or creating a template for WordPress. A modern website has to be thought of as a marketing channel, and should be planned in terms of fostering more business growth. Speak to prospective developers about how they intend to achieve that aim. Ask how they've helped previous clients achieve greater market share and how they measure their results. Hopefully this discussion will include vital factors like keyword ranking, SEO, traffic, conversions, and so on. Probe a little deeper, and try to find out whether their past or current clients will corroborate their claims in this area.
There are plenty of reasons to outsource your website design, but there are also plenty of potential pitfalls to be concerned about. If you're thinking about a redesign of your site, why not speak to the pros at Rhino? We'll be happy to set up a consultation and give you a realistic assessment of what we can do based on your needs and your budget, while producing measurable and sustainable results.