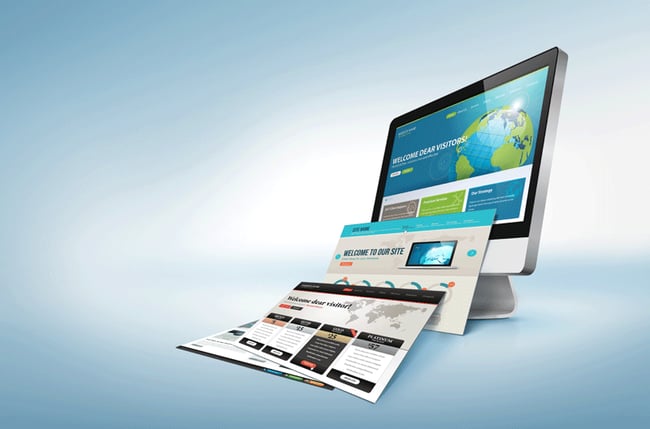 Are you considering redesigning your website or adding a few updates? If so, there are several website design trends for 2016 that you should consider incorporating into your redesign. A website with up-to-date and relevant design is much more likely to capture the attention (and ultimately the business) of visitors than one that is outdated. You want your design to encourage visitors to continue exploring your site and what your business has to offer. Below are a few of the website design trends for 2016.
Eye-catching elements
Several of the trends in 2016 have to do with eye-catching elements. One of the most popular elements in online design right now is beautiful and unique typography. You see it everywhere you look on social media sites such as Facebook and Instagram. There are apps and online editing software that make it easy for anyone to add different types of typography to their photos. On your site, you can switch between different fonts to add interest and draw attention to what you want visitors to see first. Adding interest to your website using typography is a simple change that can have a big impact.
Another eye-catching element you can add to your website is a 'hero image.' A hero image is basically a high quality image, such as a photo, that is beautiful and/or interesting. The goal is to grab the attention of the visitors of your site. You can use interesting typography on your hero image to further engage visitors.
The use of bright colors and duotones are also popular design trends for 2016. Bright colors can capture the attention of visitors to your site and help create dimension. Duotones simply means that you are using two complementary colors to create a look and feel that grabs people's attention.
Fun animations on your site are another way to keep the attention of visitors. For example, it is more fun to look at a cute animation while waiting for something to load than a little hour glass. You can also add animations in other places on your site to add interest. The trend for 2016 is for the animations to get smaller.
Responsive design
Responsive design is a website trend that will likely stay around long term. People use the internet on devices of various sizes and a responsive website will work on all those devices. You need to make it easy for visitors to access your site and find the information they want on any device.
More and more people use mobile devices as their primary means of searching for information online. If your site is difficult to navigate online then you risk losing a large amount of potential customers. Making your website responsive is a more difficult change than adding some of the elements mentioned above. But, website visitors will not turn into customers if they quickly leave your site out of frustration.
People are exposed to a huge amount of visual information every time they go online. If you want your site to grab people's attention in the midst of so much visual information, you need to pay attention to the current website design trends and keep your design relevant and responsive.