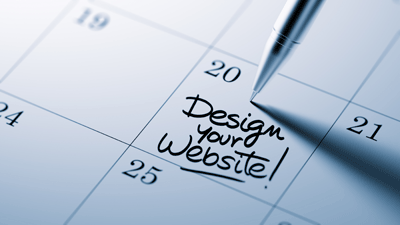 When was the last time your website had a redesign? If you're running a business in the 21st century, it should have been within the last few years. Technology is moving so fast these days, your website can become obsolete in no time. Just consider, what is the most popular, fastest-rising social media platform in the world? Right now, it's Snapchat, which boasts more than 100 million daily users, despite the fact it didn't even exist five years ago.
So if it's been a couple of years since your website had a facelift, it's time to make some changes. But how should you handle a site redesign in 2016? Here's what you ought to know:
A business website is like an online storefront
Have you ever seen a physical eBay storefront? Of course not, it's an online business. So how do you know it's reliable? Well, reputation is one way. And a smart, modern site design doesn't hurt either. But since we'll be attracting new visitors to your business website, you can't really rely on your reputation – these site visitors don't even know you! However, by providing an effective, intuitive website, we can establish professionalism and competence.
Conversely, consider what an old, outdated website would look like to a young, millennial shopper. It would be kind of like walking into a store and seeing that the décor hasn't been updated since 1989. Would you want to do business there?
The website has one goal: driving sales
Driving sales should be the goal of almost everything you do, but it's especially critical with your website. When we utilize inbound marketing strategies, we drive traffic to our website through the use of blogs. However, these articles aren't meant to convert the visitor into a lead; that's where our content offers come in. Which means they'd better have prominent placement throughout your site.
We recommend ending every blog article with a link to a content offer, and sprinkling these offers throughout the site as well. Some of our clients even choose to keep content offers in a permanent sidebar on their site, which will follow you from page-to-page.
If it ain't broke…
One of the most common pratfalls in corporate site redesigns is adding too many bells and whistles. For instance, take the recent reorganization of ESPN. After years of a clunky, but functional, site design, the Worldwide Leader in Sports decided to overhaul the whole thing. The results were… not great. ESPN sought to innovate with their design, but instead made it overly complicated and hard to navigate. If you make the same mistake, your business site is going to be a major dud.
If the main goal of our website is to generate leads, then how does making the site complicated help that? It will only frustrate your users and inspire them to look elsewhere. So remember, regardless of whatever fancy features you can add, simplicity is paramount. We never want our site visitors to be confused or lost.