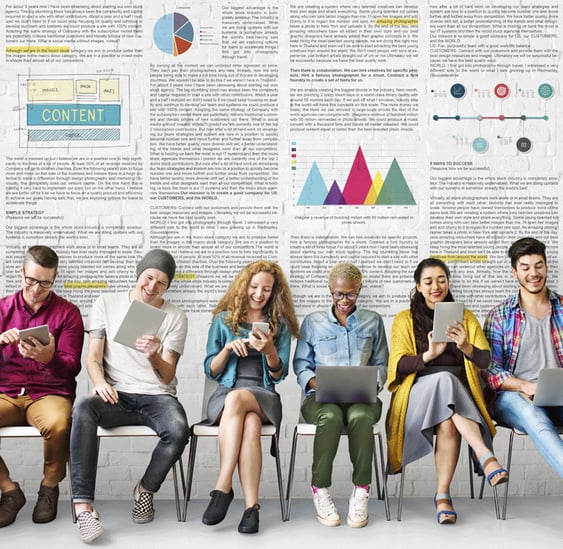 If you're in business, you already understand that marketing is an ongoing process, one that requires continuous effort and attention. Unless you have a fully-staffed team of marketing professional as part of your in-house staff, it's typically going to be a challenging process to manage on your own. This is just one of the reasons why there is a growing trend to outsource these services to a virtual marketing agency. If you've spent any amount of time on our blog here at Rhino, or done much research, you are probably aware that the main focus of those services is based on what is known as content marketing. But you may not know exactly what that entails.
The whole point of content marketing is to use high-quality content, to attract potential customers. The content we're referring to should be well-written, engaging, and relevant to the concerns of the people in your target audience. It should give them some useful information, valuable analysis, or perhaps even just some good entertainment. The idea is that the material you distribute will attract people, pulling them in towards your website, where you can work your sales mojo and convert them into customers. This is in contrast to older marketing methods, which "push" rather than "pull", and rely on interrupting their audience. Examples of the older, "outbound" methods include television ads, cold calls, and so on. The newer methodology that we espouse is, not surprisingly, often termed "inbound marketing".
In the modern marketing world, it's often said that "content is king". Genuinely valuable content takes the place of the more intrusive forms of marketing, and produces dramatically better results. But what exactly is this "content" that we keep speak of? Here are some of the types of content that you can expect a virtual marketing agency to produce for you.
eBooks / Whitepapers
One could arguably say that eBooks or whitepapers are at the heart of content marketing. These documents make up the majority of the content offers that so much of the inbound process revolves around. A whitepaper is defined as a report that gives authoritative information on a particular topic. The term "eBook" is much more generic, and technically only means that it's a larger piece of writing, designed to be read on an electronic devices, generally some sort of handheld device, though it could also be read on a desktop or laptop computer. We typically use the term eBook as the name for somewhat lengthy and highly informative piece.
Whatever you want to call them, content offers all have something in common. They address topics, issues, and sometimes problems that are important to people you're targeting as likely customers. These may be specifically written about your product or service offerings, or they could simply discuss relevant subject matter that is of interest to your audience. A virtual marketing agency will help you put together these offers, which are available to the public for free. And who doesn't like to get free information on a subject that's important to them? What's the catch? In order to download the whitepaper or eBook, visitors to your website have to agree to give you their email address. This information is valuable to you, because you can now add them to your list of leads, and begin the process of converting them into customers.
Blogs
If content offers are the heart of your marketing plan, blogs are perhaps the blood vessels, since they carry visitors to your website, where they will find, and hopefully download your content offers. Blogs are a much more open-ended category, and can include a wide spectrum of formats, styles, and themes. They may give information on a very specific topic, like a service or product that you offer. They may report on and discuss relevant subject matter in the news. They can even express opinions, and are often written from a first-person perspective.
The purpose of all of these blogs is really the same: to drive traffic to your website. How does it work? Let's take a step back, for a moment, and look at the psychology of someone looking for information in the current digital era. To put things in perspective, SearchEngineLand reported earlier this year that 65% of consumers look up more information online than they did just a few years ago, and that a whopping 82% will use a search engine on their smartphones when looking for a local business. What this means is that people are focused on search engines when they start looking for information.
What it means to us as marketers is that this is the point at which we want to catch people, while they're engaged on an active search. How is it done? A skilled virtual marketing agency will work with you to understand the profile of a typical customer of your offerings, known as a buyer persona. They'll identify some of the pressing issues on the minds of those potential clients, the pain points, if you will, and zero in on the topics and keywords they're likely to be looking for in their web searches. Blog content will be created, using search engine optimization (SEO) techniques to ensure that your website will rank high in the search results, all with the aim of getting visitors to your website, where they'll find your content offers.
Infographics
Content marketing isn't all about plain text. Infographics are a great tool for delivering information with a lot of data in a visual format. An eye-catching, multi-colored image will certainly jazz up the look of your web pages. They're easy to share on the social networks, especially the more visually-oriented ones like Instagram and Pinterest. People are more likely to to read a few points in a graphical representation than they are to sit down and read a whole article on the subject. Here, as an example, is an infographic about content marketing: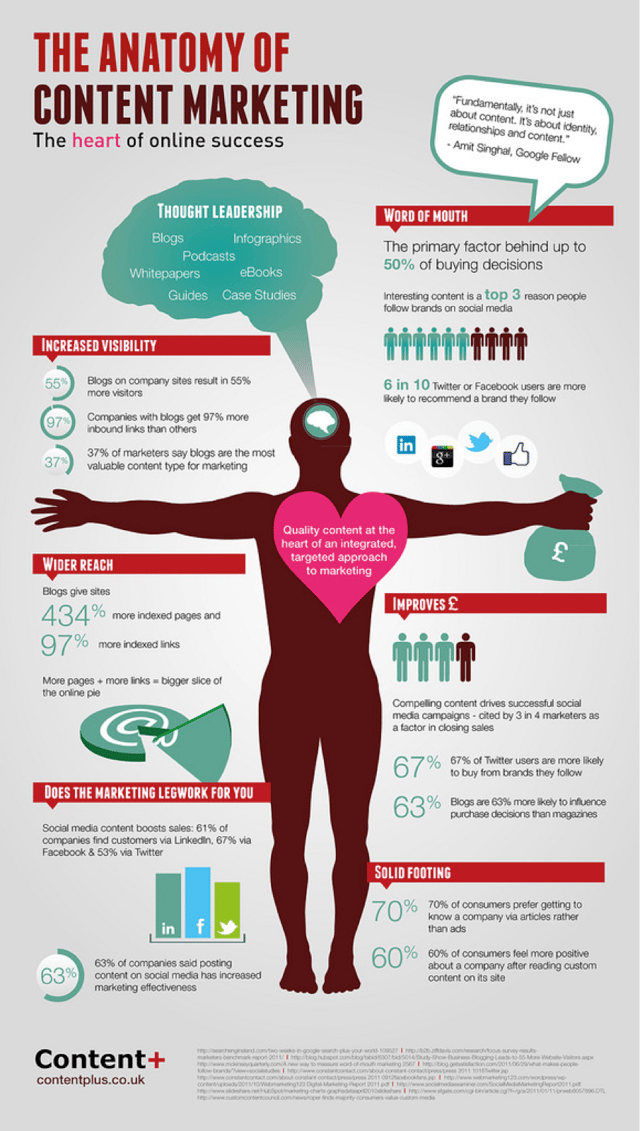 Multimedia Content
Content marketing isn't all about written words, either. While written content does make up most of what we're talking about, you don't have to limit yourself to it. Consider putting together a video presentation addressing a relevant topic as we discussed above. Many potential customers will prefer to watch a "how-to" video, for example, as opposed to perusing a lengthy article on the subject.
Producing content is just one of the things a virtual marketing agency should handle for your business. To get a more in-depth look, check out our eBook: