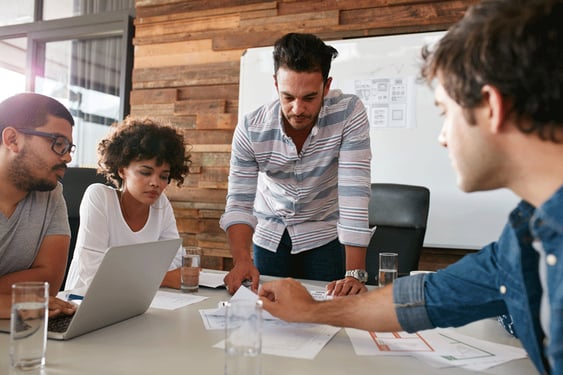 If there's one function that's absolutely essential to every business, it would probably be marketing. Let's face it, it doesn't really matter what kind of product or service you're selling. Unless you've got a product that completely sells itself you're going to need to put some effort into promoting what you do. That means getting the word out to your potential clientele, and it also means bringing customers in the door. At this point in time, however, it's more likely that it's a virtual door into which you need to bring your customers, not a physical one. We're deep in the digital age, and old-school method of marketing, like print advertisements and cold calling by phone, have given way to what we've come to know as digital marketing. If you're not focusing your marketing efforts towards digital channels, you're missing the boat.
Of course, if you're already in business, I'm probably (and hopefully) preaching to the choir on that topic. Not too long ago, a study entitled "The Future of Digital Marketing" revealed that 80% of companies surveyed had plans to increase their digital marketing budgets. However, the same study also found that there was one primary obstacle for those who want to expand their digital marketing efforts, and that was the difficulty in finding and retaining the talent necessary to further those efforts. It's for this reason that you're probably hearing more and more about companies outsourcing their digital marketing efforts. We're great proponents of outsourced marketing. In fact, we'd like to take that a step further, and suggest that when you're ready to outsource your digital marketing, you do so to an agency which is a HubSpot Partner, like we are here at Rhino. Let's look at some of the reasons why we think that makes sense.
Outsourcing allows you to focus on your core competencies
This is especially true for small businesses. If you're a shop that's in a startup or growth phase, I'm willing to bet that you're constantly plagued with finding the resources to accomplish the myriad of tasks that are involved in running the business. An increasingly common solution to this quandary is to outsource activities that are outside of the realm of your company's core competencies. Now I know that in the past decade or so, outsourcing has become kind of a scary concept, almost a dirty word, if you will. If you've read the economic news at all, you've certainly heard about the loss of crucial jobs here in the U.S. due to outsourcing work overseas. This practice, however is probably better called "offshoring", as it refers to exporting jobs off of American soil. Outsourcing simply means having some piece of work done by another company. The general recommendation is that if a business function doesn't relate directly to the mission of your business, you'll be better off having it done by an outside group. In any business, there's are an awful lot of processes that are vital to the survival of the business, but fall outside of the company's core competencies. At the top of the lists of tasks are critical functions like accounting, payroll, and, you guessed it, marketing.
Outsourcing digital marketing saves money
I see that one got your attention. It doesn't matter how big your company is, or how profitable. No one has money to throw away, at least not if you're planning on staying in business. So, any way to save money is going to be a step in the right direction. Of course, when I say that outsourcing your digital marketing efforts saves money, I mean in comparison to managing the process in-house, which would require maintaining a full-time marketing staff. You may not need a full marketing department, and may not be able to afford it. But even one full-time employee is a costly proposition. Keep in mind that we're not just talking about that person's salary. There are also a host of other costs, starting with healthcare benefits and payroll taxes, not to mention computer hardware and software, phone office furniture and equipment, and so on. And that doesn't even take into account soft costs, like recruiting, hiring, and training. You'll also have to pay your staff consistently, whether you're in the middle of a huge marketing campaign or a slow season. Not so when you outsource. You'll pay the agency only for the service you contract them for.
A Full Team of Experts
Stop for a moment to think about the lone marketing individual in the example above. We may refer to that person as "marketing professional", but think of how many different jobs fall under that umbrella. Your digital marketing efforts include a broad spectrum of functions, including social media, content creation and curation, email marketing, website development, SEO, sales support, strategy, reporting and analytics, and more. Regardless of how talented your marketing person is, that's an awful lot to put on one person's plate. It's also a wide range of skills to expect one staff member to master. On the other hand, when you outsource the process, you get an entire team of marketing professionals, each with their own areas of specialization. I mentioned earlier in this article that outsourcing your marketing was a less costly solution. But that should be taken to mean that it's a cheap, inferior solution, Quite to the contrary, we believe that you get much more bang for your buck when you outsource.
Cutting Edge Digital Marketing Strategy
I don't mean to sound disparaging about your lone ranger in the marketing department. I'm sure he or she is doing a great job. But being successful in digital marketing efforts in today's world means staying on top of all the current trends, the latest in tools and technologies, and changes in the behavior of consumers. That's going to be a challenge for someone who spends all their time working in your office, on your marketing projects. Contrast that with a HubSpot partner agency, who works extensively with a variety of clients. Here are Rhino, we've built digital marketing campaigns for countless clients in many fields, We've seen what works and what doesn't. It's our business to keep abreast of the best tools of the trade (like HubSpot), and we can work with you (and your marketing staff, if you have one) to design a marketing program that will be more successful than you could dream of.
OK, but what's this about HubSpot?
A key element of digital marketing efforts is the ability to use technology to automate the process. We here at Rhino have done extensive research into the most effective tools and methods for our clients, and we've found that HubSpot is an ideal platform from which to manage every aspect of your marketing campaign. We only partner with the best, and we've not only chosen to become a HubSpot partner, but we've also taken one level higher. We're also in an elite group of less than 200 agencies who are Gold Tier HubSpot partners. This affords us much more support from the folks at HubSpot themselves, and needless to say, that benefits you as well. It also acknowledges the success we've achieved with the platform, including awards we've won for websites designed using the HubSpot COS. Give us a call for a consultation, to see we can help you further your digital marketing efforts.