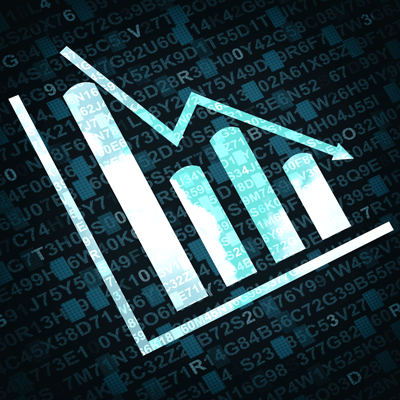 If you recently implemented an inbound marketing strategy, you most likely were hoping to see an increase in website traffic month over month immediately. And maybe you did, as you published more content you saw your organic website traffic begin to increase. But, then it really started to level off. First it slowed, then it basically stopped increasing, and now the unthinkable has happened: your website traffic is actually decreasing.
We all know that the idea is to attract more traffic to the business site, not less. So if you've reached the point where your traffic is decreasing, you're doing something terribly wrong.
What's your big mistake? Let's try to figure it out by discussing three reasons your website traffic is decreasing, not increasing.
You're not updating your blog enough
We discuss blog posting frequency all the time on this blog, and our recommendations have never wavered. You should be posting optimized content weekly, and daily posting is ideal. If you don't keep the site's content fresh, then Google will start to view your site as outdated. And since Google only wants to bring searchers the best, most relevant results, that will be terrible for your traffic.
Your blog topics are not what your buyer persona(s) are searching for
Coming up with blog topics is one of the hardest things to do within inbound marketing. A blog topic needs to be immediately interesting to the reader, complex enough to be written about at length, and has to include a specific keyword or two. Not the easiest task in the world.
However, if you take the time to analyze your customer base, you should become better at developing topics. Just think about what your customers want and what they talk about, and you should start to get an idea of what to write about. If all else fails, do a little Googling yourself. Look for topics related to your field/market and write about those.
You haven't optimized the website for all mobile devices
This is what we've come to: your internet traffic is going to be negatively impacted because of smartphone users. That's how huge the mobile internet market has become. Not only that, but Google's most recent algorithm update placed a heavy emphasis on websites needing to be responsive. They nicknamed the update "Mobilegeddon".
If your site isn't optimized for mobile, they may encounter a jumbled mess. How likely do you think they would be to do business with you after that? In today's world, it's imperative that your site be viewable on ALL mobile devices and tablets.
Here at Rhino, we accomplish this with help from HubSpot. Because our entire website is hosted on HubSpot's platform, we're able to take advantage of the software's automatic optimization features. So you'll never have trouble viewing our website on a mobile device.