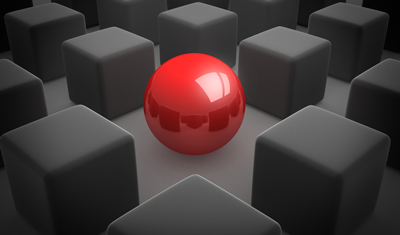 Business is constantly evolving, as are the marketing approaches used to promote the products and services behind those businesses. In the world that we live in today you no longer only need to think about about the competitor down the street. Now, you have to worry about every single business out there that offers what you do, in the surrounding areas and beyond. With so much competition, it's important to stand out from the crowd as the best of the best. Below you will find the four top tips to help your business stand out among the competition.
Update Your Blog REGULARLY
A business blog is an asset that can do more good for your online presence than just about anything else out there. Fresh, original content published on a regular, consistent basis can give you authority both with the search engines, and with your online visitors. Determine a blogging schedule that you can easily maintain, and stick to it. If you know you can consistently blog four times a week, every week, then do it!
While it may seem difficult to come up with that much original content, if you put in a bit of time and effort, you should be able to brainstorm enough ideas to last for months. Think about your expertise, the most frequently asked questions that you hear, and what you know your target buyers will be searching for online. Use this as inspiration for your blog content and you will be well on your way to developing a valuable blog for your business.
Throughout your content be sure to use your target keywords and to speak to your target buyer. The more frequently you blog about a topic, the more likely you are to be viewed as an authority on the subject. This is a great way for your content to draw in more and more people who have a need for the information that you are providing.
Stay ACTIVE on Social Media
Even though social media is something that most businesses have decided to dive into by this point, the majority of these businesses aren't really doing it right. Sure, having a Facebook or LinkedIn page is great, but if you aren't regularly updating and interacting with your fans and followers, then you aren't getting everything out of it that you could be.
Post every single time you update your blog, whenever you have exciting news within your company, and anytime you introduce new products or services. It's also a good idea to post news stories, videos, links to fun articles, and questions you have for your followers. These types of updates tend to drive up engagement, which is always a good thing. Even if the update doesn't seem closely related to your business, it is still serving a purpose because it is helping to build a one-on-one relationship between your company and it's followers.
Create ENTICING Content Offers
Valuable content is the best thing you have at your disposal to offer to online consumers. Take the time to craft content offers that you know your target buyers would find value in. Answer questions you know they have, provide valuable information about your industry, create "how-to" type posts or videos, or offer checklists that guide them through a process. This content can be offered in exchange for their contact information, which is the first step in turning them into a valued customer.
When creating your content offers be sure to stray away from "selling" your business. Often times it's best to not even mention your company. These pieces of content should be purely educational. If you own a photography business, for example, you could create an eBook titled "A Quick Guide to Successful Family Photos". You could create a checklist sharing the "Top 10 Things You Should Do Before Your Next Photo Session". You could even share a video showing examples of coordinating color schemes that would work for the wardrobe for a family photo session.
This type of content is seen as highly valuable by those with an interest in what your company has to offer. Many businesses haven't begun to step into this territory yet, so it will certainly put you ahead of the competition.
Utilize SEO
In everything that you do online, you should keep search engine optimization best practices in mind. SEO is the easiest way to ensure that your content offers, blog posts, social media posts, and website will begin to make their way to the top of the search engine results pages. This is the number one way you will be discovered by those searching for the products and services that your business has to offer.
SEO best practices are constantly changing, but if you keep a few things in mind you should be fine. You will need to use your target keywords throughout your copy whenever it makes sense, but especially in the first sentence. Don't go overboard, however, because that can get you penalized by Google. You should include keywords in your headlines, in your URLs whenever possible, in all alt and meta tags, and in your image file names. Doing these things can help your content quickly make it's way to the top of the search engines for your target keywords.
By doing these few simple things, your business will begin to stand out among the competition. Although many of these things will soon be commonplace for businesses online, at this point there are still many who haven't discovered the benefits of inbound marketing. Take advantage of the fact that you are ahead of the crowd and you will soon be reaping the rewards in the form of qualified leads and loyal customers!
To read more on this topic, download our free eBook "How Inbound Marketing Drives Real Results".