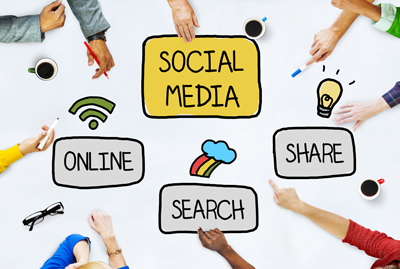 Social media and blogging are an important part of any online marketing plan. In the past, it may have been possible to create a solid web presence without the use of blogs, Facebook, Twitter, and the like. But at this point, it's basically inevitable. There is so much power in social media that it's possible to make that your main focus. If you don't have the time or cash flow to invest in a standout website, then it is totally achievable to get your business discovered online with the use of a blog and social media alone.
The first and most important step to take is in creating a blog for your company. Blogs are the best way to get your company discovered in the Google search engine results. The key to successful blogging is in creating quality content that is unique, informative, interesting, and consistent.
Once you have created your blog, it's time to start pushing out this quality content. While it's a great idea to blog every single day, sometimes that's just not attainable for a small business. It's more important to blog consistently. Create a blogging schedule that works for you and your abilities. If it's five days a week, perfect! If it's only two or three, that's just fine, too. As long as your readers know what to expect from you and are aware that every Monday, Wednesday, and Friday, for example, they can come back and find fresh content on your blog, then any schedule works.
Creating content that your target buyers want to read and will find value in is also an incredibly important piece of the puzzle. Once you have spent a good amount of time creating your target buyer personas (which is absolutely essential), then you will be able to use that information to develop your target keywords. You can use these keywords that will be the focus for your business online can shape your blogging strategy. It all goes hand in hand. These keywords are the words and phrases that your target buyers will be going online to search for. By using them throughout your content, you will help your chances of ranking highly in the search engine results for those terms. This is an excellent way to get your business discovered online.
Social media sites such as Facebook, Twitter, LinkedIn, and Google+ are also incredibly beneficial for your online presence. These places are outstanding for developing a relationship with your target buyers that would be impossible in other venues. By consistently updating your pages and engaging with your audience, you create the feeling of a one-on-one relationship between your business and your buyers.
This allows your target consumers to feel as if they have easy access to your company and those who run it. If they have an issue, a question, or a compliment, they will come to your social sites first, rather than going through the hassle of dialing up your customer service department. If you respond quickly, in a respectful way, and make an effort to keep the conversation going, not only will you impress the customer you are dealing with, but you'll also impress everyone else who is watching. In the online space, this could be thousands (or even millions!) of potential customers.
Your social media sites can also help to get your business discovered by taking up more online "real estate" on the search engine results pages. If you use keyword best practices on your social sites as well, such as including target keywords in all posts, then your Facebook or LinkedIn page may begin showing up in the search engine results for those particular terms. This is incredibly beneficial for your company, because the more space you take up, the more likely it is that a viewer will click through to one of your pages. If you begin dominating the search engine results for your keywords, then the odds of your business being chosen over a competitor increase greatly.
When it comes down to it, the more online places you have tied to your business, the better. Consumers expect a business to have a healthy online presence, with an active blog and social profiles. When a target buyer Google's your name, you want to know that they will find many different ways to connect with you. Social media and blogging are an incredible way to do this, and are often all that you need to get the job done. To read more on this topic, download our free eBook "Blogging for Business".