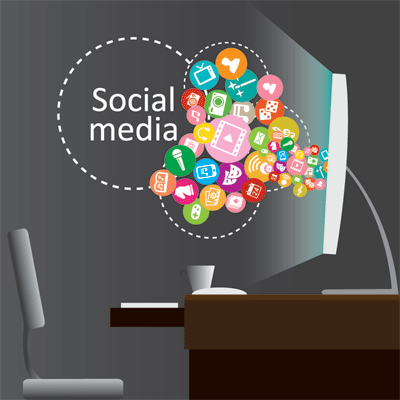 Social media is not only a major marketing tool for business, it is one of the critical parts of a successful inbound marketing strategy. With inbound marketing, you need to bring the customer to you, and social media helps you do that.
Of course, not all social media platforms are created equal. There are many popular social media sites and apps in the world today. Which is the best for your business? Use this list to help you answer that question:
The best social media site for B2B: LinkedIn
LinkedIn started out as the online home for your resume, which might explain why it's the social media home for so many business professionals, managers and executives. LinkedIn boasts executives from every 2013 Fortune 500 company among its users, and 48 percent of its users are in a "decision-making role." That last point is especially important for B2B companies.
When you sell to other businesses, you don't want to spend time talking to someone at a low level, who then has to take additional steps to get someone else to approve the deal. You want to reach decision-makers who can make a deal without further approval. LinkedIn gives you direct access to these people.
The best social media site for all audiences: Facebook
Facebook has been the undisputed heavyweight champion of the social media world for years, and it's somehow still growing: 1.32 billion users now log into Facebook at least once a month.
No matter who you want to target, you get the most bang for your buck on Facebook. With their advertising features, you can target your post's audience based on factors such as gender, education and location, among other things.
If you want the best of what Facebook has to offer for your business, it will cost you. Business page posts now only reach 6 percent of your page's followers, on average. If you want more eyeballs for your posts, you're going to have to pay for them.
The best social media site for capitalizing on trends: Twitter
Twitter is limited to 140 characters because it's supposed to evoke the feel of a text: a snap judgment or opinion made specifically for right now. When something is happening in the world, you're likely going to hear about it first on Twitter; or you'll at least hear everyone's opinions about it there first.
With Twitter, you can jump into the conversation whenever something big is happening in the world. If you've ever used Twitter during a major sporting event, you know that the event dominates the conversation. This can be a great opportunity to shoehorn some of your marketing into the equation. For example: your business can run a Super Bowl promotion, then use Twitter to advertise the promotion in the lead-up to the Super Bowl, as well as during the game itself.
Successful marketing is all about taking advantage of every opportunity to market your company; Twitter is a great tool for accomplishing that.
The best social media site not to use: Google+ (note: this is meant to be sarcastic, but not really)
Sorry, Google; nobody likes Google+. Less than one out of every four online adults visits Google+ on a monthly basis.
To read more, download our free eBook: