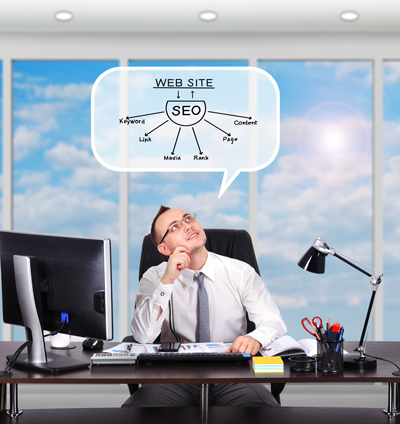 When it comes to your business being discovered by potential customers online, ranking high on search engines is basically the most important factor. Typically, when a person is in need of a product of service, the first thing they will do is go online and Google whatever they are looking for. If your business isn't one of the first things that they see after conducting their search, then you can basically count yourself out. This is why it's so incredibly important for your website, blog, and even your social media sites to rank highly in the search engine results.
So if you aren't ranking on the first page of Google (or any other search engine, for that matter), why is that? There are a number of things that could be causing the issue, many of which can be easily remedied. Take a look below to find out the 5 reasons why your business isn't ranking high on the search engines.
You're Targeting The Wrong Keywords
When you're coming up with a list of target keywords, it's easy to go for the obvious. If you're a dog groomer in Tacoma, for example, you might choose to target "dog groomer", "dog grooming", or even "best dog groomer in Tacoma". Of course those keywords would be excellent to rank highly for, but they also likely have an incredible amount of competition. Every single dog groomer in your area will be targeting those exact words, and ranking highly for them will take an incredible amount of time and effort.
Instead of putting all of your focus into highly competitive keywords, think outside the box. What will your target consumer be searching for when they go online? While it may not be the obvious choice, they may search things like "dog groomer reviews", "groomer for small dogs", "groomer for nervous dog", "show dog grooming" – the list goes on and on. Spend a solid amount of time brainstorming the keywords that you believe your target customers will be searching for, and then choose a handful to focus on. Your odds of ranking highly for a more specific term are much greater than for a general term that everyone is targeting.
Your Website Isn't Strong
A standout website is the number one tool you need for your business today. Often, your website is the very first thing potential buyers will see, and we all know how important first impressions are. Aside from that, a quality website that has been well thought out and optimized will help you to rank higher in the search engine results.
Your site should include your target keywords on every page, throughout your content, in headlines, and in Alt and Meta tags. It should be frequently updated with fresh content, and should include more than simply the basic information. It should be a place where viewers can come and learn everything they need to know about your business. The more keyword optimized content you can add to your site, the more likely you will be to rank highly on search engines.
You're Aren't Creating Quality Content
Unique, quality content is what's going to draw consumers in to your website and blog. When you set out to create content, you should first think about what your target consumers will be searching for. In using the dog groomer example from above, you can assume that your target consumers are dog owners who love their pets. They will likely, at one point or another, look for tips for keeping pets healthy, dental health for pets, why they should take their dog to the vet, what is the best diet for their pet, best toys for young dogs, etc. Basically anything a pet owner would look for is fair game.
While these topics may not relate directly to dog grooming, they do relate directly to dogs. You can create content based on these ideas, which will draw traffic to your site. Creating a blog post about "The Top 10 Ways to Keep Your Pet Healthy" would draw in a large number of readers, some of who are likely in need of a groomer for their pet. This type of content is also easily shareable, meaning more and more readers will end up on your site.
Your Content Isn't Optimized
When you're creating the quality content mentioned above, it's incredibly important to take the time to optimize it correctly. In everything that you push out, meaning every blog article, every social media post, every website update, etc., you need to be following keyword guidelines and SEO best practices.
While there are a million SEO tips floating around out there, starting with the basics is the best approach. Always use your target keywords wherever it makes sense – although you want to avoid going overboard, which results in keyword stuffing and may be penalized by search engines. Use keywords in the title of your post, throughout the body, and in all Alt and Meta tags. It's also a great idea to link back to your own site whenever possible. Reference other articles you've written, or link to pages within your site that relate to the topic you're writing about. Use keywords in URLs whenever you are able. By following just the basics you will likely begin to see an improvement in your rankings.
You Aren't Utilizing All The Tools at Your Disposal
As you know, a great online presence isn't just about your website these days. In order to truly succeed as a business on the web, you will need to have a stellar website, a frequently updated blog full of excellent content, and social media sites that are active and engaging. If you have created all of these things but aren't using them in the way that it was intended, you are doing your business a great disservice.
At this point, it's expected that a company updates their blog on a regular basis. It's also expected that you manage your social media sites by posting frequent updates, responding quickly to any comments or questions left by followers, posting questions to encourage engagement, and basically doing whatever it takes to create a relationship with your past, present, and potential buyers. Social media is one of the best ways you can get to know your customers and find out what it is that they want and need from your company. It's also a great way to let these consumers feel as if they know you on a one-on-one basis. By frequently updating your social sites, you not only will help to foster these relationships, but these sites will begin to rank higher in the search engine results as well.
Take a good look at your online efforts to ensure that you have all of the points above covered. If you're lacking in any of these areas, there's a good chance that's why your online rankings are suffering. The good news is, none of these things are incredibly difficult and at this point, they are all basically inevitable. Making it a point to invest the time and energy into these efforts will certainly be worth it in the end.
To read more on this topic, download our free eBook "How to Rank #1 on Google".