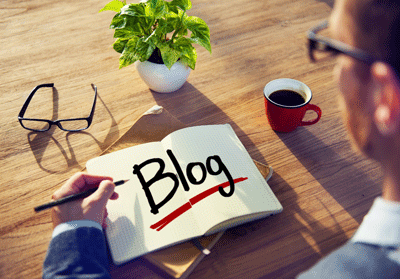 It should come as no surprise that writing a blog is not a favorite activity for most businesses that embrace inbound marketing. Writing isn't easy, and coming up with topics can be even more challenging. Nobody wants to be the person in charge of keeping the site populated with fresh content, because that's a lot of pressure.
If this describes your feelings, then you're probably wondering if you really need to have a business blog at all. You might be thinking, does anyone really want to read this stuff? Can't we market our company based on our level of service and products?
Regardless of how great your business is, the quality of your service and products is only one component of the inbound marketing formula. And those factors only come into play later in the process, after a lead has become a customer and completed a purchase. How are you going to get those leads in the first place? That's where blogging comes in.
Finding a way to attract visitors
If products and services were the critical components of marketing, then we wouldn't have to worry about marketing outreach to begin with. Basically, the quality of the products and our service would take care of it all for us. Our satisfied customers would do the heavy lifting.
Unfortunately, although word of mouth can be valuable, it's not nearly enough to sustain a business. We have to use marketing to attract customers, even if they've already heard of our business. Heck, even Coca-Cola still airs commercials on a regular basis – do you think there's an American adult alive today who hasn't heard of Coca-Cola?
But your business doesn't have the money to air commercials during primetime the way a Fortune 500 company like Coca-Cola does. Therefore, you have to get creative with your marketing. You've got to get the most bang for your buck while still utilizing a successful marketing strategy. That's where inbound marketing (and blogging) comes into play.
Why blogs matter
Since you're not going to be able to pay for major ad campaigns, blogging is like your secret weapon. Your blogs have to be informative, keyword-laden articles that your ideal customers would be interested in (we refer to these ideal customers as "buyer personas"). If you write valuable blog articles on a regular basis, your articles are going to start ranking highly in Google search results. This is the beauty of inbound marketing: by writing effective blogs, you're going to reach levels of online relevance that other companies pay huge sums of money to try to achieve (often unsuccessfully).
Why does that online relevance matter? Because the highest-ranked search results get copious amounts of traffic, and the more traffic you have, the more lead opportunities you'll get. Lead generation and conversion rates are very low, so it's in your best interest to maximize traffic.
You don't have to bear the burden alone
If you lack people on staff who can write blogs, and you don't have time to do it yourself, there is a solution. You can hire an inbound marketing agency, who can not only help devise your inbound marketing strategies, but can also provide content writers to create your blog articles. Successful inbound agencies have a track record of achieving great results for their clients, and can do the same for you.