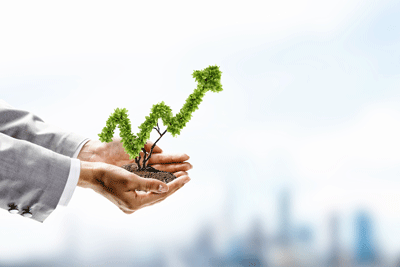 If you engage in inbound marketing, then you should realize that the success of your marketing hinges almost entirely on Google. We even wrote a blog post stating this fact a while back. The reason is simple: inbound marketing relies on potential leads discovering your content as a result of internet searches. And which internet search engine has a stranglehold over the search market? Google, and it's not even close. Google technically saw its grip slip a bit last year, and yet it still owns 75 percent of the market. So if you want your content to be found, you need to appease Google's search algorithms.
One surefire way to rank highly on Google is to increase the size of your online presence or "footprint." Google strives to provide its users with the most accurate, timely and relevant search results at all times. How it does this is a bit of a secret – Google keeps its proprietary algorithms under wraps – but we have some ideas on how it works. When you increase the size of your online footprint, it increases your relevance in the eyes of Google.
So how can an inbound marketing agency help grow your online presence? Here are some of the strategies they use:
Content, content and more content
One of the most common things we see businesses struggle with is content creation. Not only is it time consuming to write blogs, it can also be challenging. Your blog articles need to be relevant to your market, informative and optimized for search. They also need to be constant – you should be updating your blog at least three times a week. This keeps your site consistently updated (which helps relevance), while also adding more webpages to your site. More webpages equals bigger online presence.
Inbound marketing agencies usually have content creators on staff, who are well versed with blog writing and creating content offers. By allowing them to handle your content responsibilities, you know that you'll always have fresh content on your site that will rank highly in Google search results.
Understanding how to appease Google
As mentioned above, making Google happy is a big part of the inbound marketing formula. Inbound marketing agencies handle marketing for multiple clients, so they understand what kind of strategies will help make your site more relevant in Google's eyes. For example, finding the best keywords for your field/market is crucial with inbound marketing. Agencies conduct research and scour the internet to find the best keywords for your business, and then ensure those keywords are used throughout your content and website.
Links are another integral part of inbound marketing. Your content should have ample internal links. Why does this help? Well, Google uses a web crawler to catalog all of the internet, and that web crawler uses link to travel from page to page. Therefore, the more links you have, the more times the web crawler has to pass through your site. And that means a boost to your online presence every time it does.
Social media management
Another big part of your online presence? Social media. Yes, it's no longer just a distraction for the teenage set. Social media is the next great marketing frontier, and it provides multiple benefits. A social media presence helps increase brand awareness; gives you another venue for communicating with customers; allows you to post links to your site; and increases your online presence. Inbound marketing agencies can set-up, monitor and update your social media pages, and understand how to get the most value out of these excellent marketing tools.