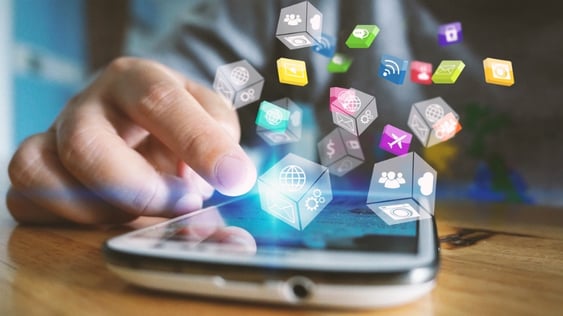 Like it or not, social media is here to stay. As of about a year ago, there were more than 2.2 billion active users of social media, which amounts to a global penetration of about 30%. What's more, that number increases by 176 million each year. For myself personally, I'm still a little skeptical, and treat the whole thing as sort of a "necessary evil", at least on a personal level. I don't really understand why I should need to use a third party system to stay in touch with friends and family members, with whom I already have a half dozen other ways to communicate.
But on a business level, it's a totally different story. While most of us didn't think of it this way when we started sharing photos of our breakfasts and snarky memes, social networks have become a part of the modern day marketplace. If you want your small business to succeed in the coming years, you'd better have a presence there, because that's where your customer base will be spending their time. According to the Pew Research Center, 90% of young adults between ages 18 and 29 are social media users. If they're not your target audience now, they certainly will be in the coming years.
It's admittedly a bit of a leap, however, from cat photos to lead generation and closed sales. Many small business owners understand the need to use social media as a part of their marketing process, but are unsure of the best way to do so. So let's look at some of the ways in which social media can become a powerful lead generation tool for your company.
Choose the right channel.
With so many social networks in high popularity, how does one know which one will provide the best channel for marketing your business? Well, like much of what we're discussing here, the jury is still out, to some degree. While it's not exactly like the Wild West out there on the web or the socials any longer, it's still evolving as a marketing platform. However, we do know a few things to be true.
The average user of social media has five active accounts on different networks. So let's start off by acknowledging that you ought to be in multiple channels as well. It's no longer reasonable to assume that your customers don't hang around on Facebook or Instagram, for example, because, well, everyone is pretty much everywhere these days. Instead, try to think in terms of the best ways to utilize the unique qualities of each network.
For example, Facebook users tend to view profile pages in a similar manner to websites, so use your profile there as something akin to a homepage. Stop thinking of your social media presence as nothing more than a magnet to attract "likes", and shift your focus to thinking of it as a lead generation tool. Include useful information, and even calls-to-action, right there on your profile.
While Instagram doesn't cater to business users and advertising in exactly the same way that Facebook does, don't discount it as a part of your marketing process. Instagram is all about the photos...or is it? Needless to say, if you have a product that's visual in nature, like interior design, or floral arrangements, you should be sharing images of your work. But you can now include short video clips, in addition to still photos. And don't forget about the comments, which are always a valuable opportunity to see what people are thinking.
Establish Your Brand Identity.
While it may be difficult to pinpoint a direct correlation in this regard, or evaluate a measurable return on investment in terms of lead generation, social media are an invaluable tool for establishing and maintaining your brand identity. People don't just buy big-name products because of the quality of the products. Shoppers tend to focus their attention on brands that have "become household names", and nothing says "familiarity" in today's world than having a name turn up on your social feeds, day after day. More than just name recognition, though, you can use your social media presence to communicate a brand message that gives your customer base a sense of who you are and why they want to identify with your brand.
Show Off Your Expertise.
I'm not exactly suggesting that you use your social networks as a forum for self-gratifying egotism. There's more than enough of that out there in the socials already. But don't think that since we're talking about lead generation, it means that your entire social media presence needs to be a gigantic sales pitch. Quite to the contrary, some of the best uses of the socials are to share information that may not be directly about your products or services, but instead, is relevant to your target audience. This helps to establish you as an authority in your field, and adds considerable credibility to your future discussions of your own work.
Interact With Your Audience.
One fundamental difference between social media and old-school forms of media is the interactive nature of the socials. In the past, whether you advertised on radio, tv, print media, or sent out mailings, there was one common theme: You would compose the ad or marketing collateral, and put it out there. It was completely unidirectional. Not so with the social media. In fact, it's rare indeed to post something on the socials that doesn't prompt some sort of feedback, whether it's "likes", shares, comments, or complaints and criticisms. Don't be put off if you get some vocal complaints or negative responses, either. While it may be a disappointment to you at first, it's actually an ideal opportunity to both clear up any potential misunderstandings, and to show users of the network how responsive you can be to customers' concerns.
In summary, don't forget that the majority of your potential customers are spending a significant amount of their time, and getting much of their information from social media, so those channels need to be an important part of your lead generation process. While you may decide to pay for ads and promoted posts in certain channels, most of the uses of social media are still free, so what are you waiting for?